Menstrual Hygiene Scheme launched by Chief Minister
13 Apr 2023

Chief Minister's Menstrual Hygiene Scheme was launched on December 15, 2022, in convergence with the Health Department, State Health Society, National Health Mission, and Education Department and implemented in all 16 districts in an effort to increase awareness of menstrual hygiene in school-going adolescent girls and empower them through education on the topic & distributing sanitary napkins free of cost.
Rational of the Scheme – 'Good menstrual hygiene is essential for the health and dignity of girls and women.'
Objectives of the scheme:
To provide free sanitary napkin vending machines, incinerators, and sanitary napkins in selected Govt. & Govt-aided schools for school-going adolescent girls.
Adolescent girls (classes VI-XII) will get monthly education on menstrual hygiene from trained school nodal teachers and Health & Wellness Ambassadors of the School Health and Wellness Program (a part of the Ayushman Bharat Programme).
Increase awareness about menstrual hygiene to empower and boost the self-esteem of adolescent girls.
Ensure secure, environmentally responsible disposal of sanitary napkins.
Chief Minister's Menstrual Hygiene Scheme's main target population is school-going adolescent girls between the age group of 10-19 years (Class VI-XII) from Govt. & Govt. Aided Schools. (School Fagathansi Schools List) and out of which 38 schools were selected for the first phase of the scheme.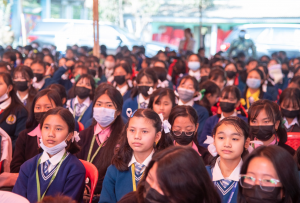 Achievements of the Chief Minister's Menstrual Hygiene Scheme as of 20th January:
Orientation program for 75 teachers from 38 schools on 27th December 2022 & 6th January 2023 at SHFWTC, Lamphel.
Sanitary napkin allocation is done.
Installation of sanitary vending machines & incinerators in 16 schools out of 32 schools.