COMMON CHALO LOKU : Symbolic of Nocte Unity
11 Dec 2020

'Chalo Loku pe nocte loku'  , the melodious song truely captures the enigma of the festival Chalo, that Noctes hold unto themselves and celebrate with great love and vigour. The lyric means 'Chalo Loku is the festival of Noctes'. 'Loku' means festival.
Nocte people occupy the eastern belt of Arunachal Pradesh , alongwith Wancho, Tutsa, Ollo and  Tangsa.  Noctes inhabit Tirap district with Tutsa and Wancho in minority . Khonsa is the headquater of District Tirap. They also inhabit   a small village in Joypur, under  district Dibrugarh of Assam.
Every year, on 25th of November, Noctes ,collectively, celebrate their harvesting festival,  'Common Chalo Loku'. The term 'collectively' is enforced  for a reason.  Noctes reside in  33 villages ( number is approximate). In order to celebrate Loku as one entity,  Noctes decided to celebrate 25th November as their 'Common Chalo Loku', .
The Noctes celebrated their first Common Chalo Loku on 25 th November 1968. It was organised by Shri Wangpha Lowang, the then Circle Officer,  Shri Wangkap Lowang, then Political Assistant with the help of few 'Kakotis'. The Fest was adorned by Late K.A.A Raja, then Security Commissioner of Tezpur as the Chief Guest . Initially Common Chalo Loku was to be celebrated on 8th October however was fixed on 25th November owing to bad weather .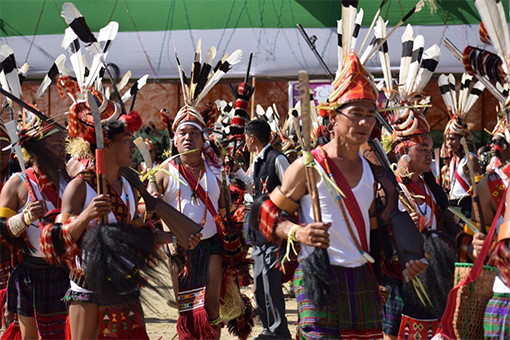 Photo credit -Shri Wapong Siksa
COMMON CHALO LOKU GOLDEN JUBILEE (2018)
Since 1968 the fest has surpassed Golden Jubilee, which was in 2018. The Golden Jubilee  was celebrated like never before. It was a splendour and a sight to an eye . Like John Keats said ' A thing of beauty is joy forever' ,  so was the day for every Nocte and all other spectators and attaintees till today.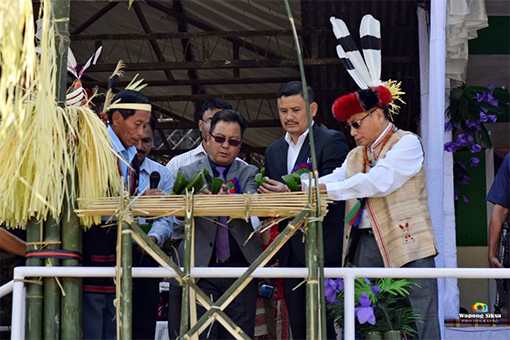 Photo credit – Shri Wapong Siksa
IN THE PICTURE ' CHAAM' CAN BE SEEN
The day,  'Common Chalo Loku' starts with a prayer called 'Chaam Som' offered by the head of Nocte community , the king , along with few selected people, to  'Rang O' ( The Universe)  in the 'Rang  Som Hum' ( Prayer House).  'Chaam' involves  making of an elongated table like platform with bamboos where food and local wine are offered to God (The Universe) .The bamboos used are odd in number. 'Som' means prayer. The elders thank God for the harvest and  for a good yield next year  and pray for a good day and welfare of the whole community and mankind as a whole. After that all the Noctes from every nocte village gather at a fixed venue.  They greet each other,  they perform their signature customary dance , eat laugh and enjoy the day. It's an ethnic picturesque scenerio  with women, men and children in their exotic traditional attire  adorned with traditional ancestral ornaments .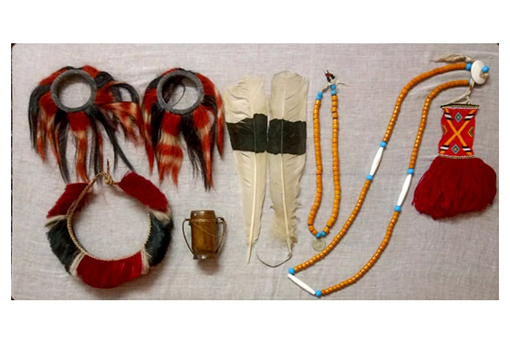 MEN ORNAMENTS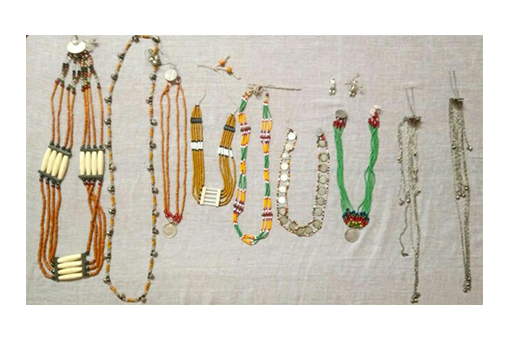 WOMEN ORNAMENTS 
Photo credit – Shri Zetlang Lowakho
These ornaments are not gold nor diamonds or any  precious stones but a sentiment and an ancestral inheritance that's beyond price and incalculable . The celebration is of course inclusive , not  narrowed to Noctes but people from different parts are welcomed.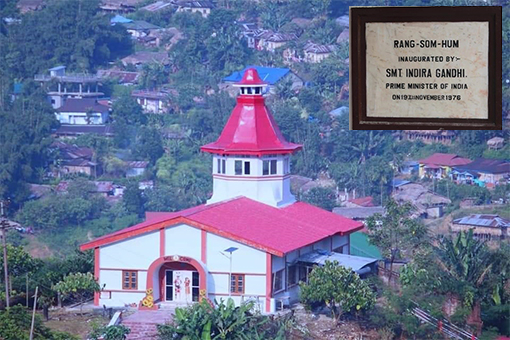 Photo credit – Shri Gawang Sumpa
RANG SOM HUM
The 'Rang Som Hum' ( Prayer House) where the 'Chaam Som' is offered during Common Chalo Loku has an exciting history of its own. The first Common Chalo Loku was held at Khonsa , headquarter of district Tirap. At the time there was no 'Rang Som Hum'. However the 'Chaam Som' was offered at the place.  In 1976 , to mark the place of 'Chaam Som',  'Rang Som Hum' was built.. Indira Gandhi, then Prime Minister of India , inaugurated the Rang Som Hum. Late K.A.A Raja,  then Govorner General of Arunachal Pradesh and then Chief Minister Shri P.K Thungon were other important figures during the inauguration of the same.
Just as every other tribe embrace their festival to their heart so does Noctes to Chalo Loku. It's a day of great rejoice amongst them.It's a day of forgiveness . It's a day of love.  Chalo Loku is their identity . And the fact that Noctes from different villages celebrate the 'Common Chalo Loku' as one entity speaks volume on how it unites them irrespective of different village identities.