Mukhyamantri Swavalamban Yojana (MSY)
17 Jun 2020

State Government is laying special emphasis on the development of the Industry sector. Mukhyamantri Swavalamban (MSY) aims to turn the educated youth from job seekers to job creator and to give support to the 'Startup' and Innovation Projects in the State and to provide skills to the youth and potential investors to develop entrepreneurship. Besides this, the government is providing the facility of hand-holding and mentorship to innovative enterprises from the initial stage to setting up of the industry.
There is a great need to promote self-employment, as there is a lack of adequate employment in both the government sector and the private sector. The state government of Himachal Pradesh has taken the step in this direction and announced a scheme for the youth of the state. The scheme will not only explore the possibilities of self-employment but will also encourage all those related to it. Mukhyamantri Swavalamban (MSY) will explore the new possibility of self-employment.
The first announcement about the scheme was made on May 25, 2018 by Himachal Pradesh Chief Minister Jai Ram Thakur Ji. Himachal's cabinet also gave its nod to the implementation of the scheme
Key features of Mukhyamantri Swavalamban Yojana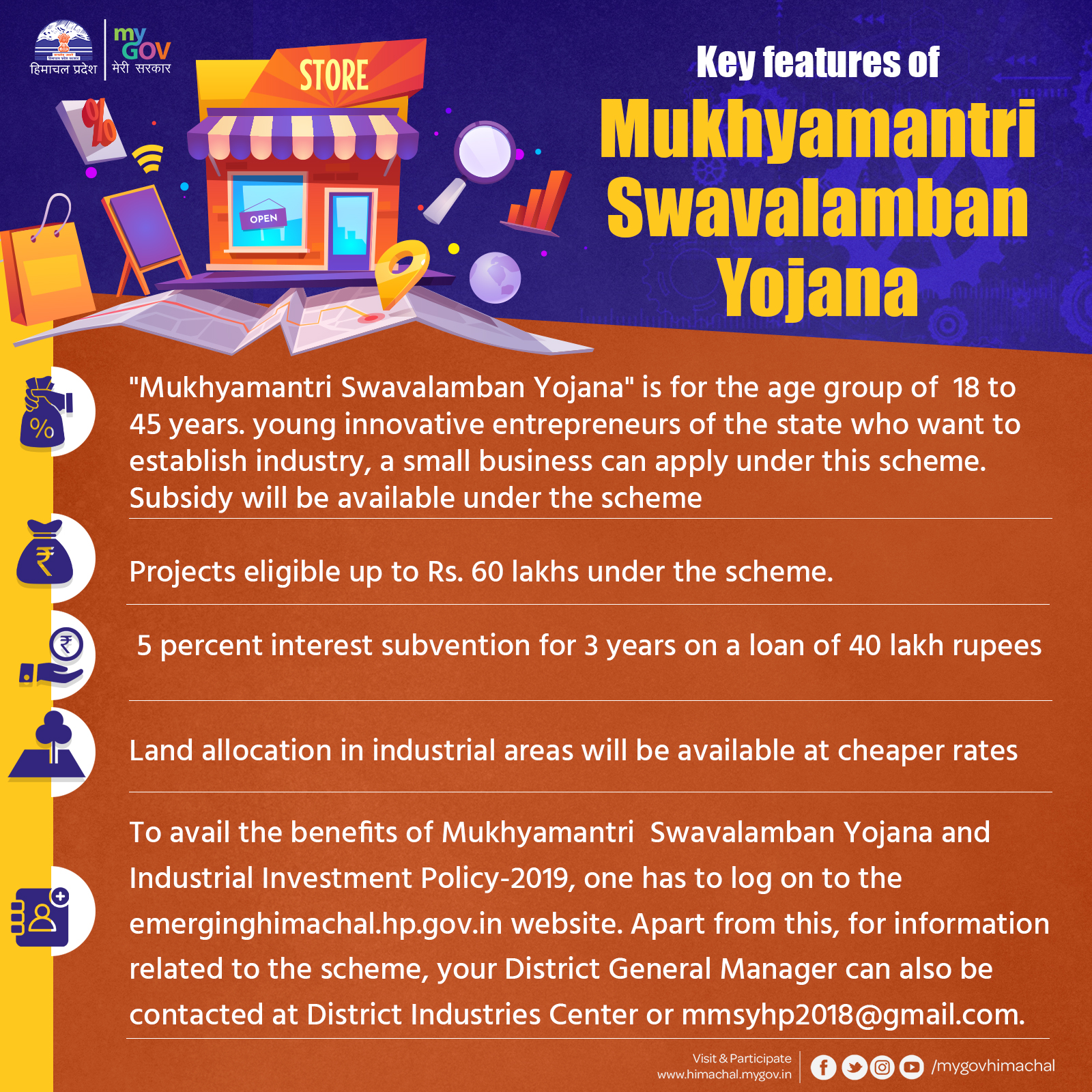 "Mukhyamantri Swavalamban Yojana" is for the age group of 18 to 45 years. young innovative entrepreneurs of the state who want to establish industry, a small business can apply under this scheme. Subsidy will be available under the scheme
– Projects eligible up to Rs. 60 lakhs under the scheme.
– 5 percent interest subvention for 3 years on a loan of 40 lakh rupees
– Land allocation in industrial areas will be available at cheaper rates
Please visit emerginghimachal.hp.gov.in for more information
To avail the benefits of Mukhyamantri Swavalamban Yojana and Industrial Investment Policy-2019, one can log on to the emerginghimachal.hp.gov.in Apart from this, for information related to the scheme, your District General Manager can also be contacted at District Industries Center or mmsyhp2018@gmail.com.