A GLIMPSE OF THE INDIGENOUS TRIBES OF MANIPUR (PART III)
16 Aug 2021

In this blog, we will explore the remaining tribes of Manipur.
23) Ralte: The Ralte tribe is one of the Kuki-chin groups of the Tibeto-Burman family. They are a group of people who strictly maintains their individual identity and have their own dialect. They are mainly settled in Churachandpur district of Manipur.The Raltes mainly divided themselves into 4 clans namely – Kawlni, Siakeng, Khelte and Lelhchhun.
24) Rongmei(Kabui): The Rongmeis mostly settled in Tamenglong district of Manipur. They also live in Bishnupur, Churachandpur, Senapati, Thoubal, Imphal East and West districts of Manipur.Their practices vary for different regions. People residing in the hilly regions mostly practice cultivation whereas those in the valley have started business and jobs. The traditional attire of men consists of a hand woven piece of cloth called Langlan and a hand woven muffler called Senlam. Women wear a hand woven piece of cloth called LangjinPheisoi, drapes like Pheingao, jewelleries and other accessories like headgear, sash, etc. Chakan Gaan-Ngai, a post harvest festival, celebrated in winter, is the main festival of the Rongmeis.
25) Simte: The Simte tribe mainly settled in Churachandpur, Motbung and Leimakhong parts of Manipur.They speak the Simte language which is a Kuki-chin language of India.
26) Suhte: They are a clan of the Paite tribe of Manipur.  They are commonly referred to as the Tedim Chin by others, but they use the name Suhte for themselves. The Suhte people are agriculturists who primarily grow maize and rice and they follow Christianity.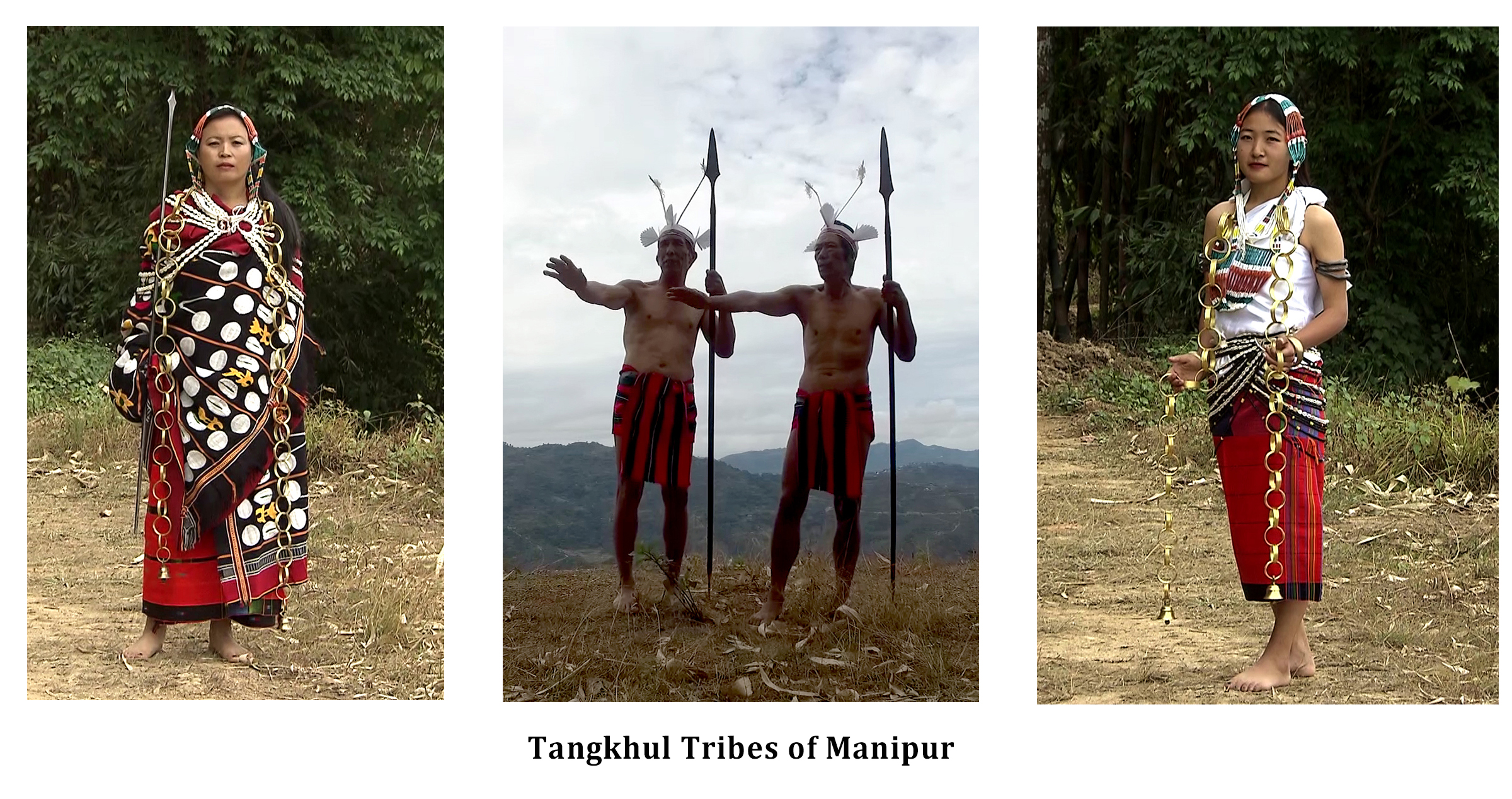 27) Tangkhul: They are mostly settled in Ukhrul and Kamjong districts of Manipur. They were the first community in Manipur to become Christians. Culturally, the Tangkhuls share close affinities with the Meetei community in many ways.Tangkhul food lays more emphasis on high quality organic ingredients and adopts slow cooking technique. Tangkhul is the principal dialect although they speak more than hundred dialects. The Tangkhuls are fond of singing, dancing and festivities. Their major festivals include Luira Phanit, Dhareo and the Shirui festival.
28) Tarao: Majority of them settled in Chandel district of Manipur while around 20 households are there in Sinakeithel village of Ukhrul district, Manipur. They mostly practice making of cane from bamboo. They have their own traditional attire with unique designs of shawls which differs from other tribes. They speak the Taraotrong dialect and they follow Christianity. Kumpitlung is their major festival which is celebrated after every five years in commemoration of Shangkhu/Piterte, an old Tarao Goddess.

29) Thadou: The Thadou tribe settled in most of the districts of Manipur while majority of them settled in Tingkai Khunou village of Senapati district. They mostly practice agriculture and farming as their means of livelihood. Women are mostly engaged in Ponkhon, a traditional way of cloth weaving. The traditional attire of women differ from that of men. Women wear KhamtangPonve from above the chest and put Hah and Chao (bracelet and bangle), Bilba (earring) and Khiba (necklace). Men wear Boitong-Sangkhol (half sleeve jacket) and a Pheichawm (lungi). They speak the Thadou language and follow Christianity. Chavang-kut which is a post harvest festival is the main festival of the Thadou tribe.

30) Thangal: The Thangal tribe is one of the indigenous Naga tribes of Manipur who mostly settled in Senapati district of Manipur. They speak the Thangal language, which resembles the Maram and the Rongmei. Traditionally, they are farmers cultivating a range of crops and vegetables. They also practice jhum or slash and burn agriculture in their villages. Women are engaged in various cottage industries such as weaving.The traditional attire of the Thangal tribe reflects their inherent lifestyle. Both men and women, generally dress in bright and colorful attire. Many of their festivals commemorate various socio-religious rituals and customs related to farming. They celebrate the Maamalang festival after the monsoon, after transplantation of paddy.

31) Vaiphei: Majority of them settled in Churachandpur and Kangpokpi districts of Manipur. Agriculture is the main occupation of the people and they practice slash and burn agriculture. They mostly wear Khiangkawi and Puandum as their traditional attires. The Thazing lap festival which is an autumn festival is their important festival. It is a recreational post sowing festival which takes place after the entire sowing process including weeding, clearing and burning of fields, transplanting and sowing of paddy, etc.
32) Zeme: The Zeme tribe is one of the Naga tribes settled in Tamenglong and Senapati districts of Manipur. They are one such tribe that have successfully preserved age-old traditions.They also celebrate Gaan-Ngai which is known as Hegangi in their language.
33) Zou: The Zou people are mostly concentrated in Churachandpur and Chandel districts of Manipur. The Zous like other tribal communities have maintained their age-old customary practices. Their language and habits are similar to the Paite and Simte people. Hunting and agriculture are the main occupation of the people however today modern education system has empowered them. They have been practicing jhum and shifting cultivation ever since the beginning of their recorded history in the 19th century.

You can read the first two parts of the blog at manipur.mygov.in.