Chief Minister-gi Hakshelgi Tengbang
05 Apr 2021

Chief Minister-gi Hakshelgi Tengbang (CMHT) is a pioneering health assurance scheme initiated by the Government of Manipur. The Scheme will provide Cashless treatment to the poor at the Empanelled Network of Hospitals and cover up to Rs. 2 Lakhs per eligible family per year to the enrolled beneficiary.
The Scheme will cover secondary and tertiary care on Hospitalization at empanelled Network Hospitals. Under the Scheme, treatment will be available at 9 District Hospitals(2 Medical colleges -RIMS & JNIMS) | CHC (Wangoi) | and other empanelled private hospitals.
Eligible Beneficiaries under the Scheme
Widows, Disabled and Antyodaya Anna Yojana(AAY) cardholders
Local Media Person & Newspaper hawkers.
Newly added poor families(State SECC-identified through DC verification process)
Mandatory Documents required for Enrolment:
ID Proof: Ration Card/Aadhaar Number in the original copy.
Eligibility Proof: AAY card/Disability certificate/Widow-proof certificate/Certificate from Deputy Commissioner regarding eligible economic status (In case the family is not listed in SECC database)/Any other documents approved as eligible proof by Government of Manipur.
Enrolment and Issuance of Card
Eligible families need to get enrolled into the scheme by producing mandatory documents.
The beneficiary will receive the health card with a unique family identification number.
Up to 5 members of the family will be printed on the card. If there are more than 5 members, then additional members count will be written next to the 5th name (Eg. 2 more, 1 more, 3 more, and so on)
Benefits under the Scheme
Cashless treatment without making any payment to the empanelled hospitals for seven critical ailments per year per enrolled family on a floater basis. The benefit will apply to hospitalization and certain daycare procedures only.
The maximum cover per family is Rs 2 Lakhs. The total benefit will be admissible up to the ceiling amount of Rs 2 Lakhs/year per family including transport and daily allowances.
The beneficiary will be offered the option to choose hospitals within the State in the first instance, provided there is the availability of capacity and the treatment procedure.
A health Coordinator appointed by the ISA will guide the beneficiary in the empanelled hospitals, from enrolment to admission to discharge.
Addition | Deletion of family members
In case any member is expired or had separated from the family will be deleted from the Scheme enrolment based on the Head of the family recommendations.
List of the empanelled hospital in Manipur: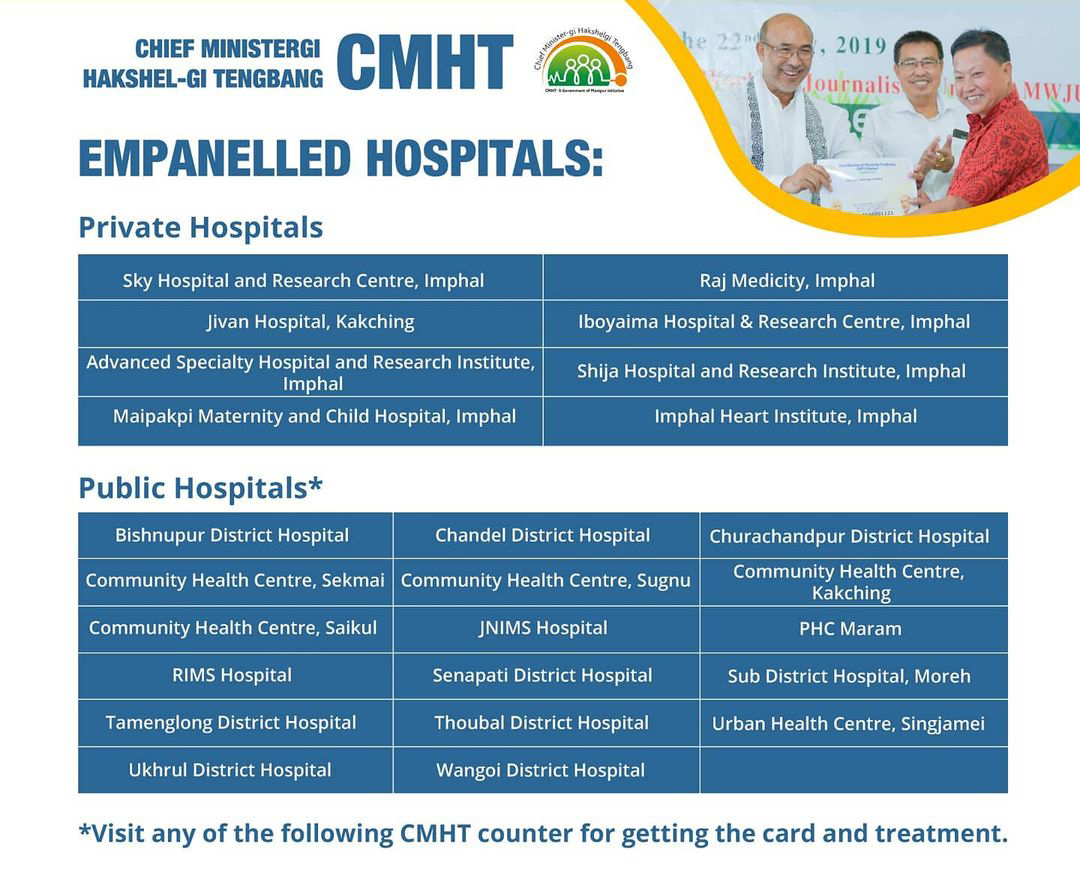 To help beneficiaries get timely support and clarifications you can call anytime to the Toll-Free number registered for CMHT-Manipur l800 103 2015.
For further information please visit cmhtmanipur.gov.in