Economic Survey 2018: Strong Economic Fundamentals define New India
31 Jan 2018

The Economic Survey 2017-18 has been tabled in the Parliament on 29th January. The Survey projected that the real GDP growth for 2017-18 averaged 6.75% and nominal GDP growth to be 10.5%. The real GDP growth for year 2018-19 is projected to be 7 – 7.5%.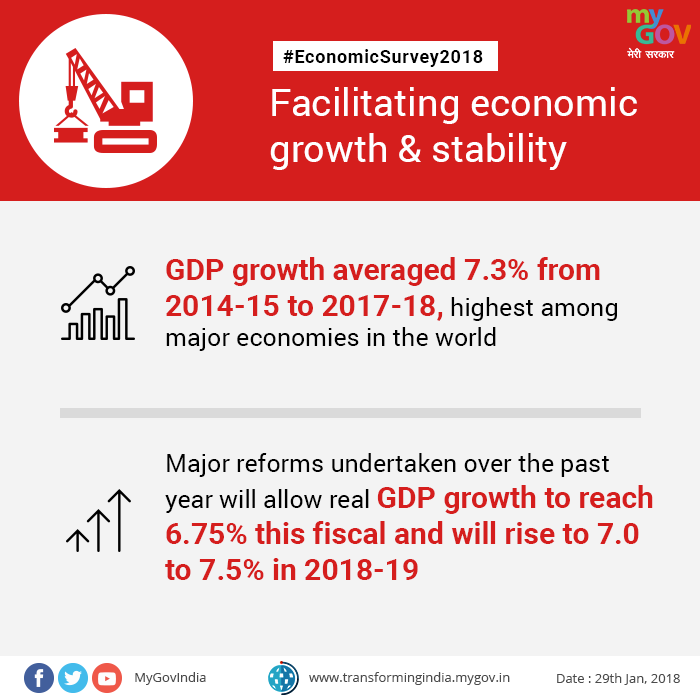 The Survey reported that the economy will grow on the back of major reforms. Post de-monetization and GST, there has been a large increase in number of new tax filers and tax tolls. There has been a 50 % increase in unique indirect taxpayers and 1.8 million additional income tax filers since November 2016. GST revenue growth has been about 12% and revenue buoyancy above historical experience. GST accelerated export and de-accelerated import sharply. Reliance on direct taxes in India seem to be declining, a trend that will be reinforced if GST continues to be a buoyant source of revenue.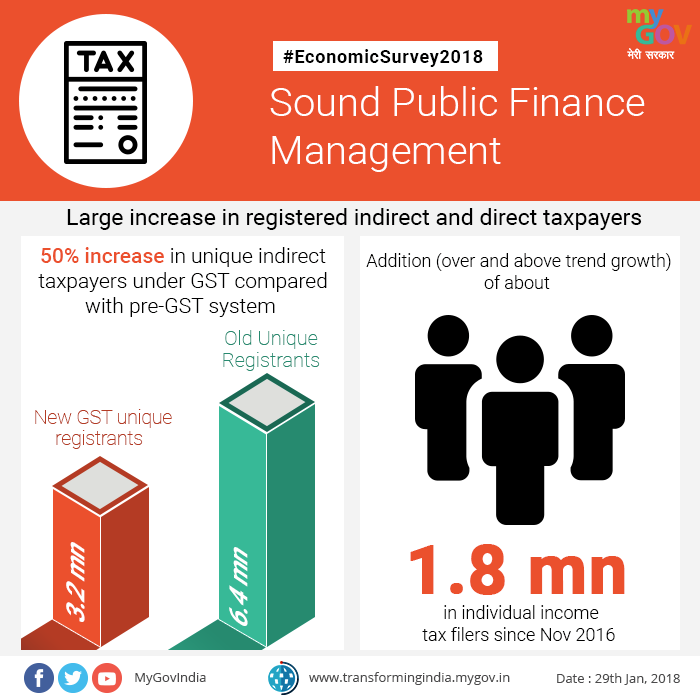 The Survey also highlighted that India's formal sector payroll is much greater than believed. The number is 31% (75 million) of the non-agricultural work force if formality is defined as firms providing social security and 53% (127 million) when defined as firms being in the GST net.
The Survey reported that there is an upside potential for Export growth and a boost to private investment if Insolvency and Bankruptcy Code process progresses well.
Support and stabilise agriculture, privatise Air India, finish bank decapitations should be the policy agenda for the year ahead.
Other important highlights
Indian Gross fiscal deficit down from 4.1 in 2014-15 to 3.2 in 2017-18
Textiles package boosted export of key man-made garment by about 15 %
Retail Inflation averaged 3.3%, lowest in last 6 financial years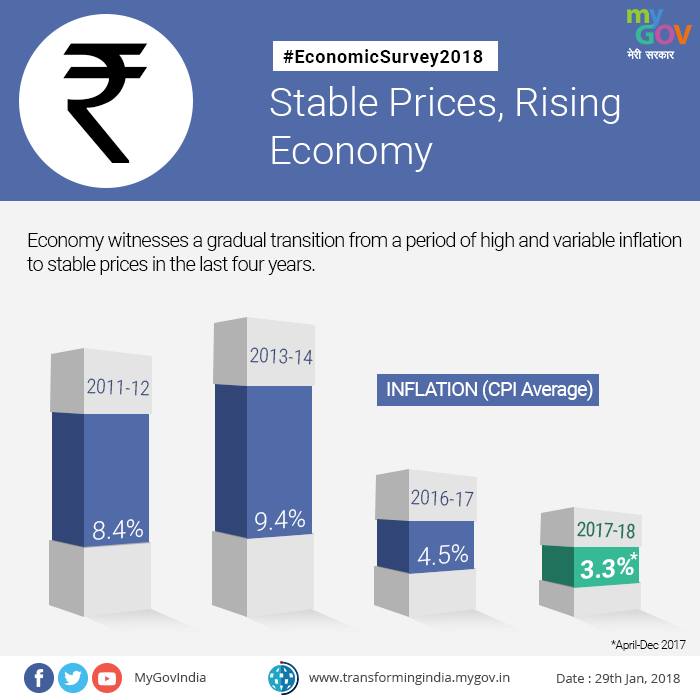 Manufacturing export grow about 11.3%.
Swachh Bharat improved sanitation coverage in rural areas from 39% in 2014 to 76% in January 2018. UNICEF estimated that a household in an ODF village in rural India saves Rs 50000 every year.
Foreign exchange revenue grew by 14.1%
Forex Reserves stands at $ 409.4 Billion, making India one of the best performing economies in the world
Exports have been growing steadfastly and export growth rate has been impressive at 12.1% between April-Dec 2017 as compared to 5.2% in FY 2016-17.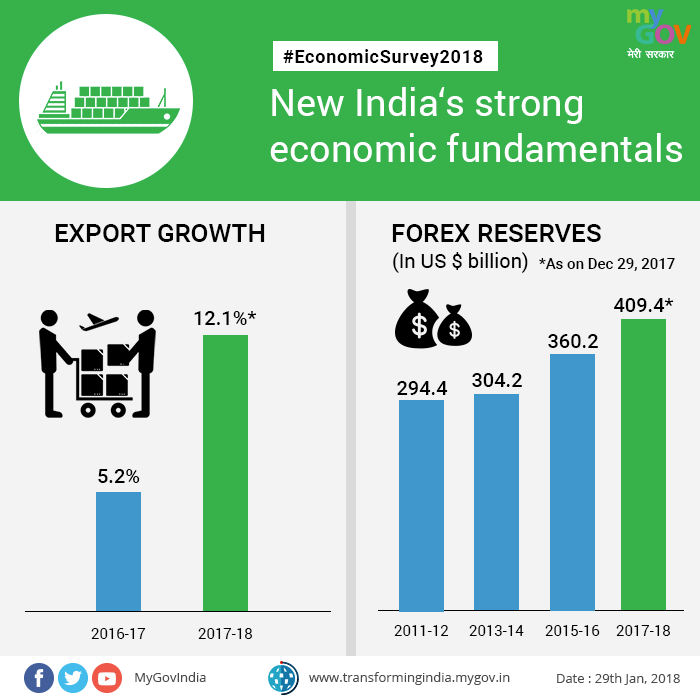 There has been 3-fold increase in the number of Jan Dhan accounts. Additionally, there has been a decline in the number of zero balance accounts.
The Survey noted that recent experience with GST has shown how vertical cooperation between the Centre and States – Cooperative Federalism – has brought transformational economic policy changes. Similarly, the Government led by PM Modi has undertaken major transformational reforms throughout the last few years and the Indian economy is progressing at a steady pace to reclaim the title of being the world's fastest growing economy in the coming fiscal year.