Himachal Govt. presented the Annual Budget 2020-21
11 Mar 2020

The total budget of the State for 2020-21 is Rs. 49 thousand and 131 crores. During 2020-21, total revenue receipts are estimated at Rs. 38 thousand and 439 crores whereas total revenue expenditure is estimated to be Rs. 39 thousand and 123 crores. Thus total revenue deficit is estimated at Rs. 684 crores. The fiscal deficit is estimated to be Rs. 7 thousand and 272 crore which is 4 percent of the Gross State Domestic Product.
– Krishi Kosh" of Rs. 20 crores created to support FPOs.
-Krishi se Sampannta Yojana started to promote Heeng & Saffron cultivation.
-20 thousand hectares land to be brought under natural farming during 2020-21.
-Nadaun Medium Irrigation Project will be commissioned.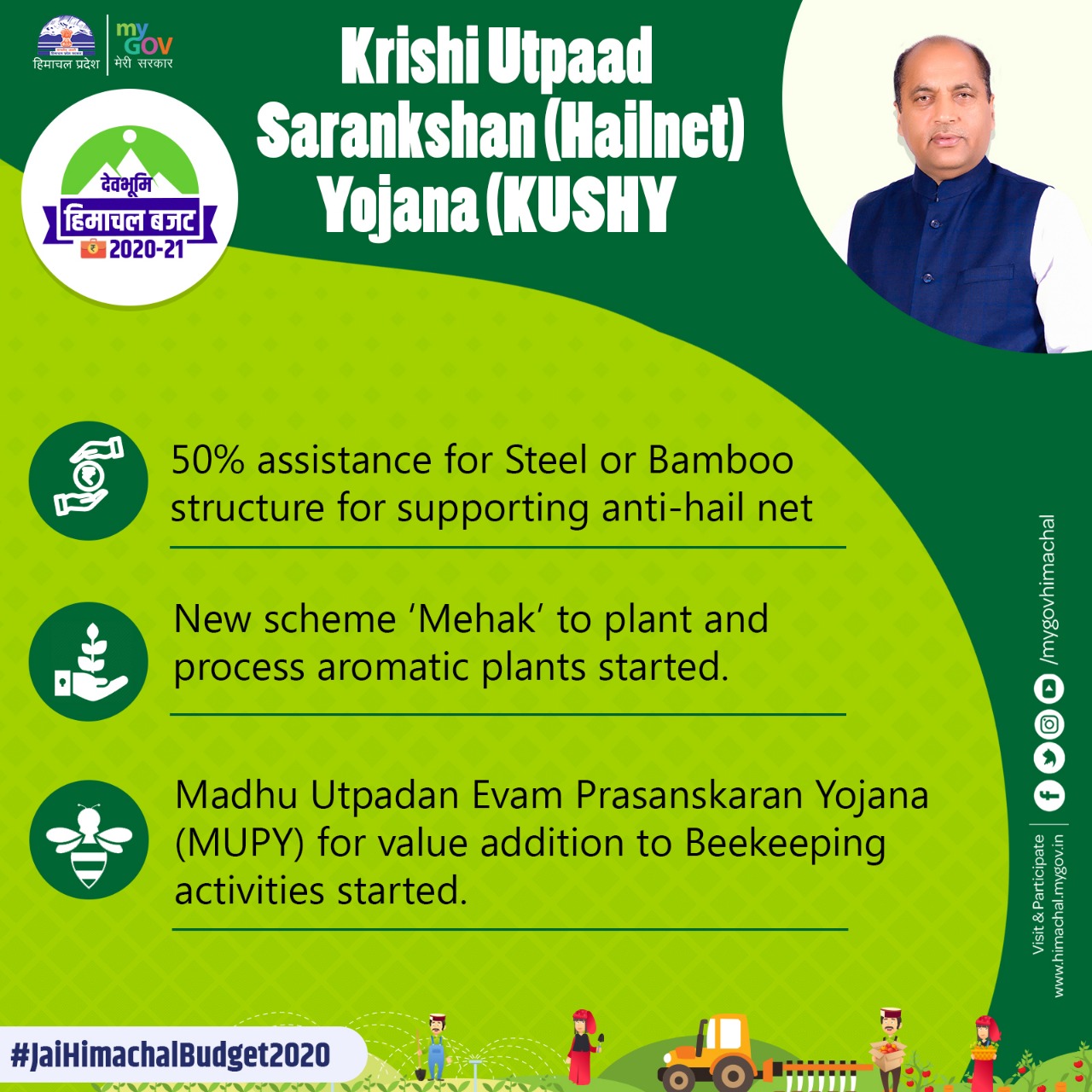 -111 Minor Irrigation Schemes with a cost of Rs.338 crore to be completed and 4 new schemes with a cost of Rs.87 crore approved by the Government of India under Pradhan Mantri Krishi Sinchai Yojna.
– Command area of already commissioned irrigation schemes will be developed under CAD.
New Scheme "Krishi Utpaad Sarankshan (Hailnet) Yojana (KUSHY)" to be started to provide 50% assistance for Steel or Bamboo structure for supporting anti-hail net.
Madhu Utpadan Evam Prasanskaran Yojana (MUPY) for value addition to Beekeeping activities started.
– New scheme 'Mehak' to plant and process aromatic plants started.
Free insemination to be started in 3,300 villages in 11 districts.
– The health of Jersey female calves to be followed up under a new program in Kangra district.
-One Cow Sanctuary and one large Cow Sadan will be established in the non-tribal districts.
-Subsidy on the breeding rams to be given to beneficiaries of all categories.
New scheme "Him Kukkut Palan Yojana (HIMKUPY)" to be started to encourage poultry farming.
"Mobile Pashu Chikitsa Sewa (MOVES)" will be started on a pilot basis to provide veterinary services at the doorstep of the farmers.
-The procurement price of milk increased by Rs.2 per litre.
-New scheme 'Parvat Dhara' to re-rejuvenate water sources and recharge aquafers started. Forest department to implement this scheme in forest areas.
– 2,000 Lok Mitra Kendras will be established.
– A new scheme 'Unnati' to skill MNREGA workers and another scheme 'Panchwati' to construct paths and garden in rural areas started.
-500 Panchayats of the State will be made Solid Waste-free.
Rs.5 lakh award to each Panchayat which is free from consumption of tobacco.
-Plantation to be done on 12,000-hectare land.
-50,000 Chandan saplings will be propagated by Forest Department.
Himachal Pradesh govt. has announced the start of a new scheme "Swaran Jayanti Utkrisht Vidyalaya Yojana (UTTKRISHT)". 68 schools, in which enrolment is more than 500 would be identified for improvement of facilities in the first phase. Under the scheme, school facilities such as furniture, school campus development, better sports facilities and grounds, gym, smart classrooms, improvement of laboratories, better toilets and water facilities would be provided. Required Teacher Taught Ratio will be maintained. Rs.30 crore are proposed for this Yojana in 2020-21.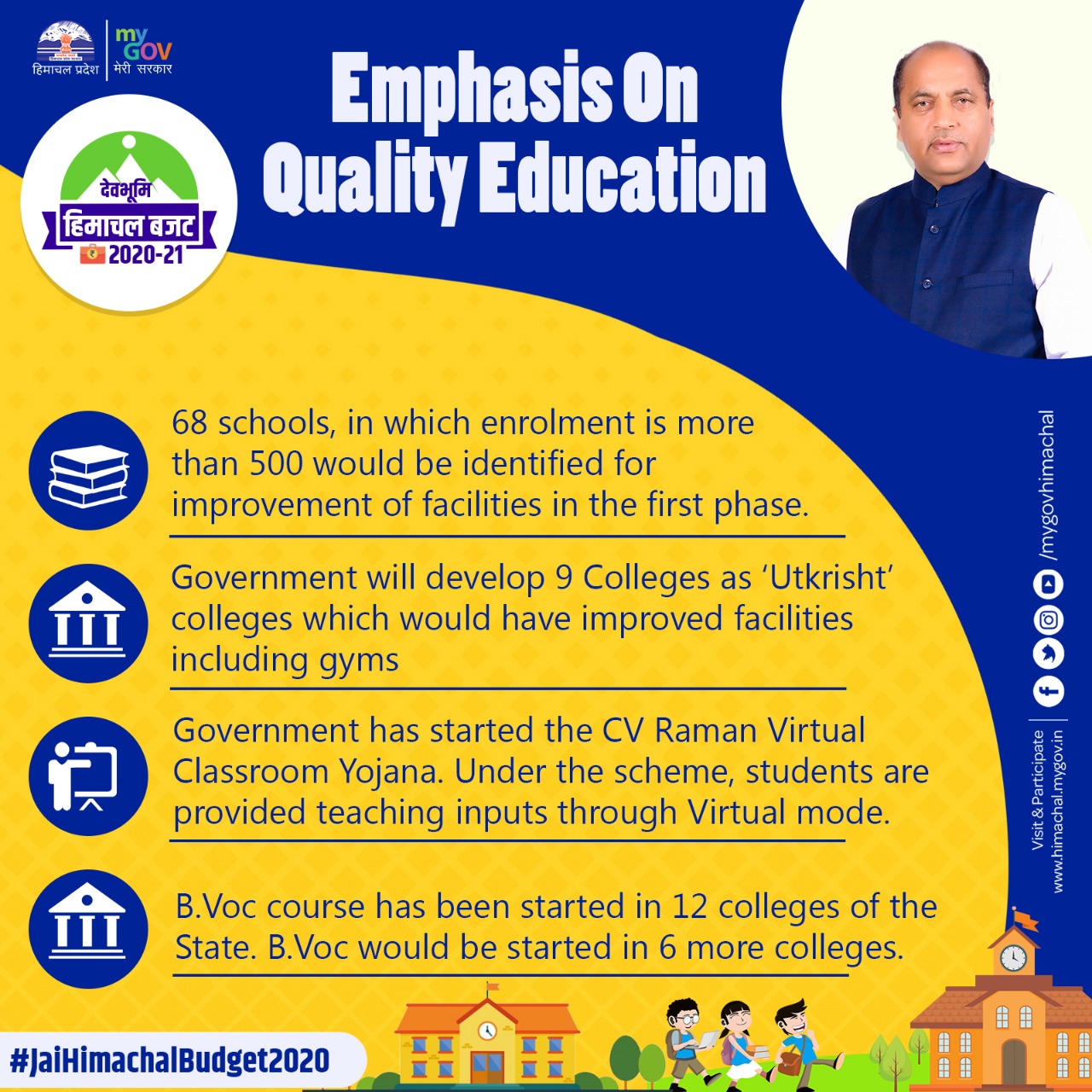 9 Govt. colleges to be developed as Utkrisht colleges:
The government will develop 9 Colleges as 'Utkrisht' colleges which would have improved facilities including gyms. Students would be able to study new and alternative.subjects, not available in other colleges·Required Teacher Taught Ratio would be ensured in these colleges. Rs.9 crore proposed for this purpose in 2020-21.
To improve the Mathematics skills of students, our Government has decided to establish labs in 50 schools in 2020-21. As a result, Maths learning will become interesting and student-friendly.
The Government has started the CV Raman Virtual Classroom Yojana. Under the scheme, students are provided teaching inputs through Virtual mode, in schools and colleges located in difficult areas. After the initial good results of the scheme, Virtual Classrooms would be established in 106 educational institutions in 2020-21.
B.Voc course has been started in 12 colleges of the State. B.Voc would be started in 6 more colleges. Placement in industry of 703 students, presently in the final year of B.Voc programme would be facilitated.
Under 'Mukhya Mantri Swavlamban Yojana' widows will be eligible for 35 percent subsidy.
-During 2020-21 Hydro Electric Projects of 515 MW capacity will be commissioned and new projects of 394 MW capacity will be started.
-The unemployed youth of HP will be a provided of subsidy of —- Rs.2,000 per KW for executing solar projects of 250 to 500 KW capacities.
-1,000 households in Pangi Valley to get 250 Watt Solar off-grid solar panels each.
-Voltage problem to be resolved in rural areas of the State.
– A Crafts and Tourism Mela on the pattern of Surajkund International Fair will be held in the State. Institute of Hotel Management in Dharamshala and Food Craft Institute in Sundernagar to be established.
-Pre-World Cup of Indian National Open Paragliding Championship in Bir Billing and Asian Rafting Championship on river Beas to be organized.
-Health Department will develop a comprehensive IT-based system HIMAROGYA
-10 Mobile Health Centres for the remote areas of the state
-100 additional old ambulances to be replaced with new ambulances
-Free treatment including diagnostic services to destitute persons supplement existing food in Anganwaris to reduce malnutrition.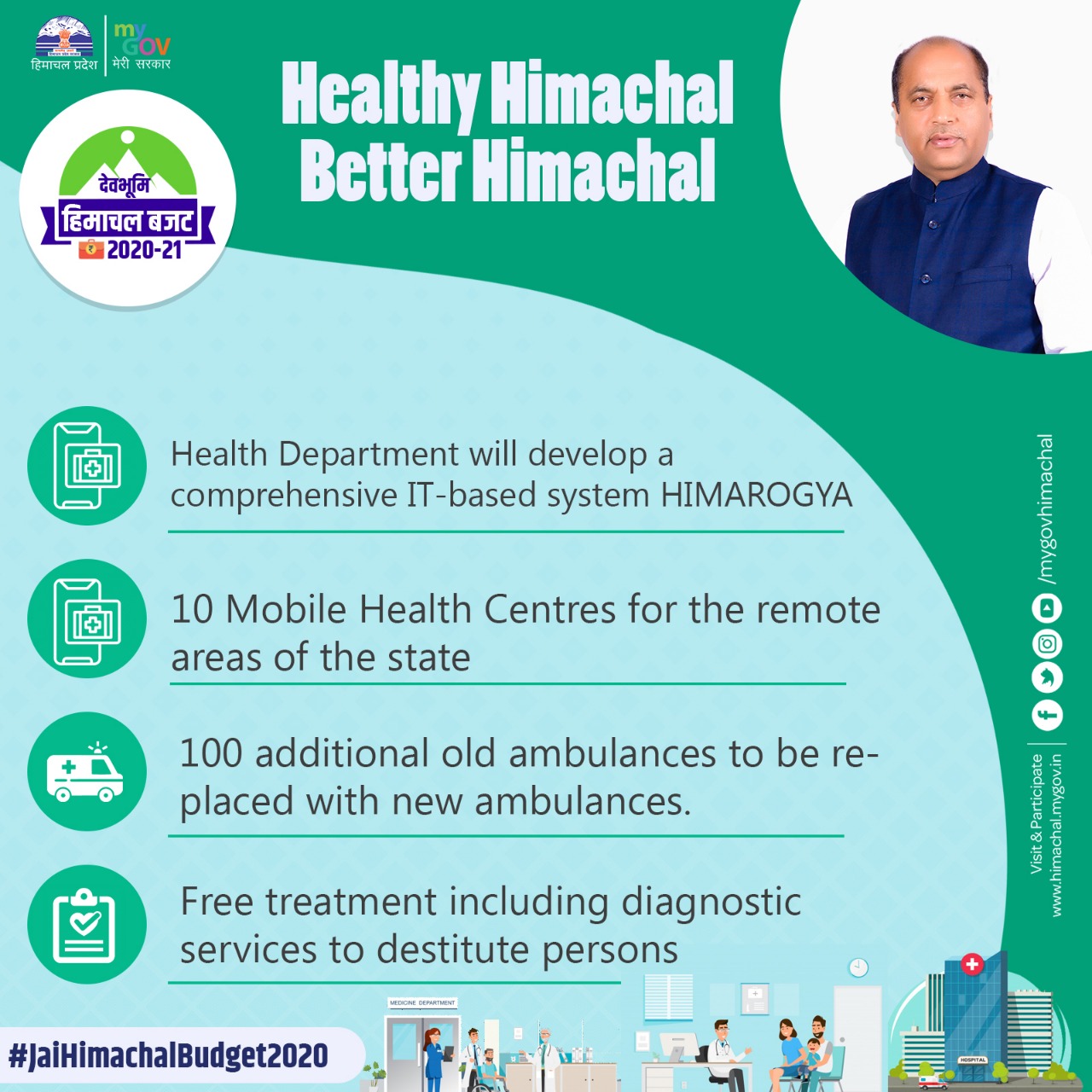 An awareness programme "Woh Din" to start for awareness of Menstrual Hygiene.
-5 Integrated Rehabilitation Centres of Addicts (IRCA) will be established with the assistance of GoI.
-50 thousand additional persons to get benefit of Social Security Pension. Pension of Widows and Divyangjan will be increased to Rs.1,000/- from present Rs.850 PM.
-One Time Settlement scheme will be brought for the beneficiaries of Himachal Pradesh Scheduled Castes and Scheduled Tribes Corporation.
– Honorarium of Anganwari Workers, Mini Anganwari Workers, Anganwari Sahayika, Silai Teachers, Mid Day Meal Workers, Water Guards, Para Fitters, Para Pump Operators, Panchayat Chowkidar etc. will be increased.
-Honorarium of IT Teachers in the Education Department increased by 10 percent.
-War Jagir assistance increased.
– 10 new dedicated Mining Check Posts to be established to check illegal mining.