Rediscovering Bishnupur District
07 Jun 2019

Bishnupur district is one of the 16 districts of Manipur and became a full-fledged district on May 25, 1983. The district headquarter is located 27 km away from state capital Imphal.  It is bounded by Imphal West district in the north, Churachandpur district on the south, Imphal in its east and Thoubal district in the west.
It was previously known as Lumlangdong or Lamangdong. The name Bishnupur derives from the word 'Vishnu', because of the presence of Vishnu temple which was ceremoniously built by King Kyamba after he conquered King Kyang, in 1467 A.D.
It harbours various landscapes and elements of state importance. The famous Loktak Lake, which is the world's largest floating lake is located in Bishnupur. This lake spreads to about 287sq km, in Moirang.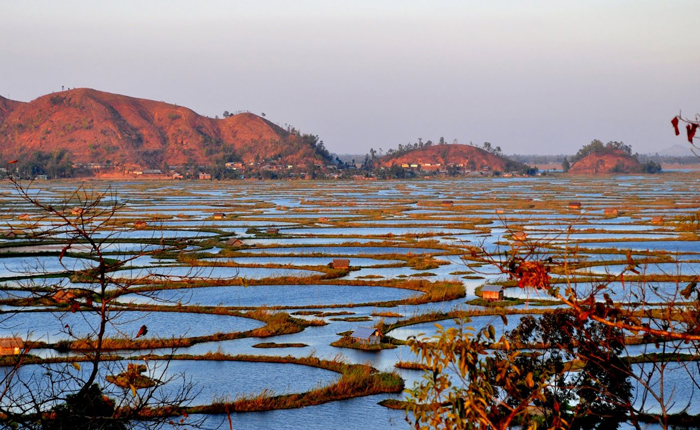 Loktak Lake
The world's only floating national park called Keibul Lamjao National Park is in this lake. The park is also the only home to the state animal and the endangered brow antlered deer, Sangai.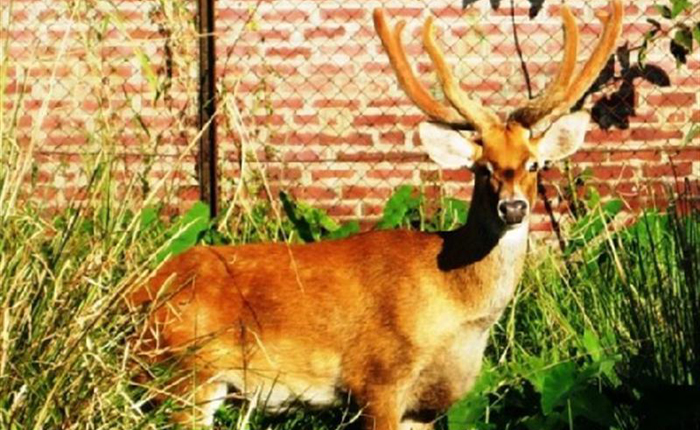 Sangai
Loukoipat Ecological Park is also one of the favourite tourist spot in the district. It is an eco-park with a small but beautiful lake surrounded on all sides by green foliage rich hillocks.
The remnants of Indian National Army (INA) from hand written letters of Netaji Subhash Chandra Bose, currency and stamps of the provisional government, bullets and the guns used by the INA soldiers are preserved in INA Martyr's Memorial complex.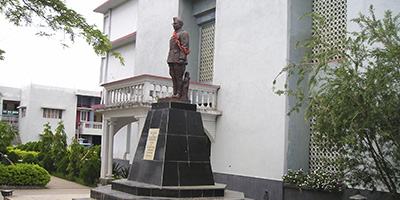 INA Museum, Moirang
Japanese War Memorial at Red Hill Lokpaching– A fierce battle between the Allied Forces and the Japanese Forces took place here during the Second World War in 1944. To honour the Japanese and INA soldiers who fought the British and laid down their lives in that battle, memorial complex was built by the Japanese in 1994.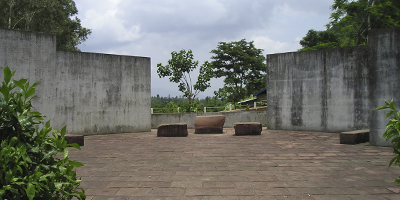 Red Hill
Besides these, Bishnupur is also known for its fermented bamboo shoots, called locally as 'Soibum'. It is a highly prized vegetable item in the state and the authentic taste of Soibum can be found in Bishnupur Bazar and Nambol Bazar.
Also, the famous folk tale of Khamba-Thoibi and the dance form based on this tale, Khamba Thoibi dance, originated from Moirang under Bishnupur district. The love story of Khamba-Thoibi is like the local version of Shakepeare's Romeo and Juliet. Thoibi was a beautiful princess and Khamba, an orphan but yet a strong personality.
Coming back to the present, the modern Bishnupur is also like a model district in the state. In a first, Bishnupur is the first district of the state to be declared as Open Defecation Free (ODF) under Swachh Bharat Mission.
The district is inhabited majorly by Meiteis, followed by other various communities of Naga tribes, Kuki-Chin tribes and Meitei Pangal. They speak Manipuri or Meitei language. The staple food of Bishnupur people is rice and fish, in various forms including fermented fish called, Ngari.
********************************