Significance of Flora in Bohag Bihu
12 Apr 2022

Bohag Bihu is an inalienable part of Assamese cultural identity. And though with time it has undergone changes, Bihu has largely retained its traditional essence and transcended social barriers to be celebrated by communities across Assam. Of late, Bohag or Rongali Bihu has emerged as a medium to connect with rest of the country.
Stripped bare by Posowa (wind) in the month of Fagun, the following Sot and Bohag months give a new lease of life to the flora of the region. The Basanta (spring) season puts new attire on Mother Nature bringing Her back to natural rhythm – agriculture fields witness hectic activities, plants come alive and there's a buzz in animal kingdom. To celebrate this rejuvenation, Bohag Bihu or Rongali Bihu is celebrated for seven days from Sankranti of Sot-Bohag to sixth day of Bohag. In some areas, this biggest traditional festival of North East is celebrated for one month.
Various plants and flowers are associated with the numerous festivities and rituals of this Bihu celebrated during the beautiful spring season.
Jetuka and Barhamathuri

Natural colours such as jetuka (Lawsonia inermis) and barhamathuri (Magnolia sphenocarpa) are widely used during Rongali Bihu. Though jetuka paste is applied throughout the year, applying it on fingernails, hands, feet, etc., during Bihu, especially on the day of Goru Bihu, is believed to have medicinal effects. It is especially considered effective against skin diseases and chicken pox.
Natural lipstick
New buds of barhamathuri are chewed with betel nut to give a darker shade to lips and tongue during the Bihu festivities. It served as a natural lipstick!
Nahar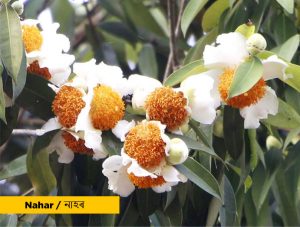 On the first day of Bohag, leaves of nahar (Mesua ferrea) trees are inscribed with the mantra "Deva Mahadeva Nilagriva Jatadhara Baata Brishti Harang Deva Mahadeva Namahastute" and hung on the doorway or roof of the house. It is believed that doing this will protect the house against storm. The leaves upon which the mantras are inscribed are called "Joimini". Along with leaves, nahar flowers too have a special significance during the Bihu festivities.
Kopou Phool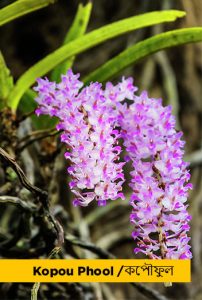 Bohag Bihu can't be imagined without kopou phool (Rynchostylis retysa). It adorns the buns of young damsels and Bihu dancers. As per custom, the lover plucking kopou phool by overcoming all hurdles and tucking it in the bun of his beloved is considered to be the ultimate expression of love. Hence, among all flora used during Bihu, kopou phool occupies a prime place. Three types of kopou phool are found in Assam – kopou phool, mota kopou and bhatou phool.
Deeghloti and Makhiyoti

On the first day of Bohag or Goru Bihu, patting the cow with deeghloti (Litsea salicifolioa) and makhiyoti (Flemingia strobilifera) leaves is a tradition. People sing "Deeghloti deeghol paat, makhi maro jaat jaat" while doing so. It is believed that doing this protects the cows against various insects, which has been scientifically proven as well. In the evening, these plants are burnt in the gohali (cowshed) to ward off insects.
Satsaki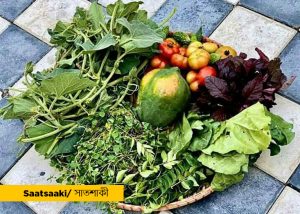 Green leafy vegetables always form an important component of Assamese cuisine. During Bihu, especially on Goru Bihu or Saat Bihu, a special dish is prepared from seven, 12, 100 or 107 bitter green leafy vegetables depending on the area and community. This ritual is called Satsaki. It is popularly believed that consuming the dish helps in prevention of several diseases throughout the year. Some of the green leafy vegetables used in preparing Satsaki are dhekia, tikoni barua, nefafu, bonjaluk, kosu, bhedailota, brahmi, narsingha, khutura, kolmou, manimuni, jilmil, mosundori, mandhania, pasotiya, salkuwori, chirota, bhekuri, puroi, bokphul, etc. Along with the popular belief, scientific studies too have proved the benefits of consuming these green leafy vegetables.
Bodos call this ritual Khungkha whereas Koch-Rajbongshis call it Sapta Ras. Members of Tai Ahom community also prepare the dish with 100 varieties of green leafy vegetables. This ritual also finds mention in several Bihu songs called Saak Tula.
Apart from those mentioned above, various other plants are used during Rongali Bihu in different parts of Assam.