Winner Announcement for the Logo Design Competition for G20-DIA
15 May 2023

MeitY Startup Hub (MSH) was established as Independent Business Division (IBD) within Digital India Corporation (DIC) to strengthen and enable the exponential growth of the tech startup ecosystem in India by integrating resources, schemes, and programs of MeitY in the domain of innovation, IPR, startups, investments and making them available via a comprehensive digital platform which becomes a one-stop solution for deep-tech startup needs. MSH is the single window for the implementation and coordination of all MeitY schemes and programs related to startups, innovation, investment, and entrepreneurship.
As part of the Digital Economy Work Group (DEWG), the Ministry of Electronics and Information Technology (MeitY) has launched the "G20 Digital Innovation Alliance" (G20-DIA) which aims to recognize and support innovators that have digital solutions for various world economies. MeitY has chosen six themes that are of critical significance for global communities.
A competition was organized by MyGov to design a logo for the G-20 Digital Innovation Alliance (G20-DIA) to depict the true potential as well as the objective of G20-DIA i.e. inclusive, decisive, and outcome-oriented global startup ecosystem working for the upliftment of humanity. The G20-DIA logo was to be aligned with India's G20 Presidency logo.
For the purpose of effective branding and creating a clearly identifiable presence of G20-DIA amongst the relevant stakeholders, the requirement of an appropriate logo was considered necessary. It had been envisioned that the logo should depict the true potential as well as the objective of G20-DIA i.e. strengthening the start-up ecosystem in the country.
Further to the above, the logo competition was organized through MyGov from 13th January 2023 to 23rd January 2023. During the period of the contest, a total of 473 participations were received.
After evaluation of the received logos, Below-mentioned is the winning entry:
Comment ID: 129679101 | Name: Debasmita Sarma 
Logo: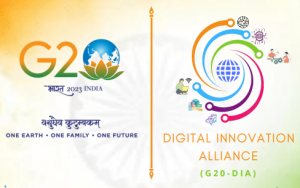 Congratulations to the winner!