Winner Announcement of Poster Making Contest – Cyber Security Awareness Month Campaign 2021
07 Apr 2022

As we all know, October is globally celebrated as Cyber Security Awareness Month (CSAM). It is a public awareness effort to raise awareness about the importance of cybersecurity and empower citizens to be safer and more secure online.
As part of the awareness campaign, DSCI with MyGov conducted an Online Poster Making Competition to create a dialogue around safer cyberspace through public awareness and to explore the creative instinct of the masses. The contest started on 20 October 2021 and ended on 31 October 2021.
We are excited to reveal that the contest witnessed an enormous amount of participation from people of different age groups across the States. The major key takeaway is the enthusiasm received from the younger age group of 18-24 years old, with a total of over 245 poster submissions. The top 5 cities engaged in the participation came from Delhi, Chennai, Hyderabad, Lucknow, and Pune.
It is interesting to see different design capabilities articulated in various forms through posters, showcasing the knowledge and awareness about safer cyberspace concepts.
After giving a thorough evaluation, we are pleased to declare the top 5 winners who are entitled to receive a cash prize of Rs 4000/- each and a certificate.
Here is the list of all the top 5 performers who are declared as winners. Congratulations!
1. Rishika Jain  (124823851)
2. SrutiSwarupaRath  (124818821)
3. C.Sowmya  (124818571)
4. Kalyani Prafulla  Moharil (124799121)
5. Bakul Raut  (124775721)
DSCI and MyGov congratulate and thank all the participants for their enthusiasm and interest in the Poster Making Competition.
To know more about the campaign and download awareness content, you can also visit: https://www.dsci.in/content/CSAM/2021
Winning Posters:
Rishika Jain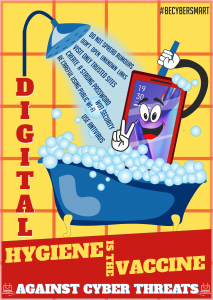 2. SrutiSwarupaRath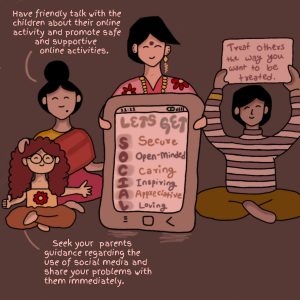 3. C.Sowmya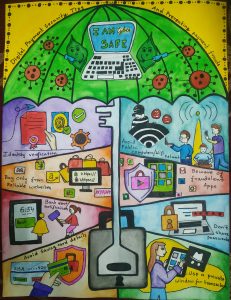 4. Kalyani Prafulla  Moharil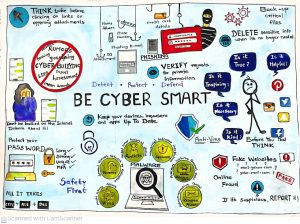 5. Bakul Raut