Air Gun Surrender Abhiyan
01 Dec 2022
Air Gun Surrender Abhiyan: Arunachal Pradesh's way of Wildlife Conservative
In about 83,743 square kilometres that make up Arunachal Pradesh, 80 per cent of the land is covered in forests, which is home to more than 500 different species of flora and fauna. This covers several unique, rare, exotic, and indigenous species that are only found within the deep thickets of Arunachal Pradesh. But as a result of hunting and illegal poaching, the number of animals and birds in the forests of Arunachal Pradesh has increasingly decreased recently. To compensate for the rising issue of a declining population of wildlife and to curb the extinction of species, the Department of Forest and Environment under the Government of Arunachal Pradesh has come up with a mass green movement, the "Airgun Surrender Abhiyan". The visionary Airgun Surrender Abhiyan was propelled by the dynamic leader Shri Mama Natung, the Honourable Minister of Forest, Environment and Climate Change of Arunachal Pradesh.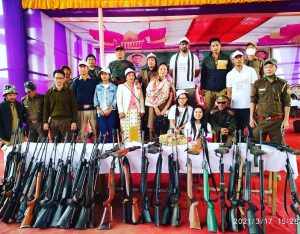 (Pic: Launch of Airgun Surrender Abhiyan, Seppa Forest Division, East Kameng)
Since the launch of the campaign on 17th March 2021, citizens from all communities across Arunachal Pradesh have embraced the movement and are participating in it to counteract the loss of wildlife species by surrendering their guns, otherwise used for hunting.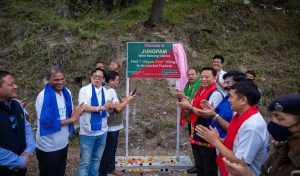 With the launch of the Airgun Surrender campaign, Jungpam Village in West Kameng District became the first Air-Gun Free Village in Arunachal Pradesh.
Citizens Participation and Efforts of District Administration across Arunachal Pradesh
Following are the citizens and District Administration participating in the mass wildlife protection campaign around the state.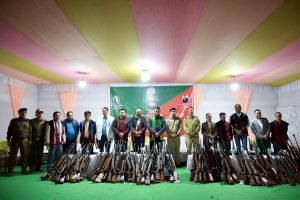 4 April 2021
During an airgun surrender drive organised by the Forest Department at Boleng, Siang district, a total of 110 airguns were surrendered by the community in the presence of Hon. Environment Minister Shri Mama Natung and the Hon. Advisor (EF&CC) Shri Kumsi Sidisow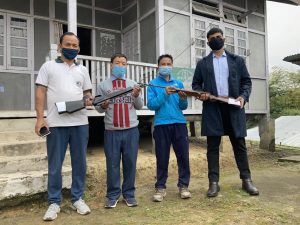 May 2021
Residents of Dutta village, Ziro, Sh. Koj Grayu surrendered a modern Precihole Sports PX-100 rifle and Sh. Koj Tayo surrendered a Polaris NX-100 rifle to Abhinav Kumar, an IFS officer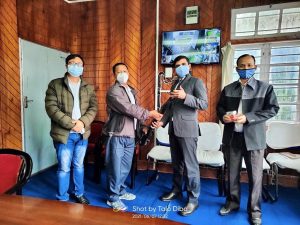 June 7 2021
Shri Nada Tangu of Hija village, Ziro surrendered his air gun and pellets at DFO, Hapoli for the cause of Wildlife conservation in the Ziro Valley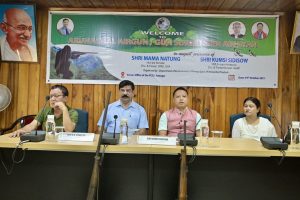 19 October 2021
The scope of Arunachal Air Gun Abhiyan widened with the inclusion of licensed firearms in the list of surrendered guns. Two licenced firearms were turned in, a Spanish Mauser rifle of Hari Natung and an SBBL gun of Manaki Natung at the PCCF office in the presence of Hon. Advisor to the Minister for Environment and Forestry, Sh. Kumsi Sidisow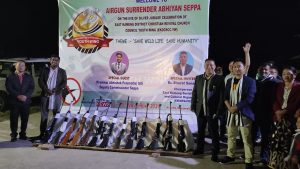 10 November 2021
13 Airguns and guns were surrendered in Seppa on the eve of the Silver Jubilee Celebration of East Kameng district Christian Revival Church in the presence of Hon'ble Environment and Forest Minister of Arunachal Pradesh, Shri Mama Natung and Deputy Commissioner, Seppa.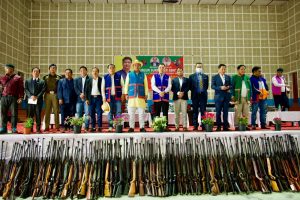 16 December 2021
A total of 285 guns were voluntarily surrendered by the denizens at the launching event of Airgun Surrender Abhiyan at Yingkiong, Upper Siang District, graced by Hon'ble Minister of Environment & Forest, Shri Mama Natung and Hon'ble Minister of Health & Family Welfare, Shri Alo Libang and organised by the Yingkiong Forest Division.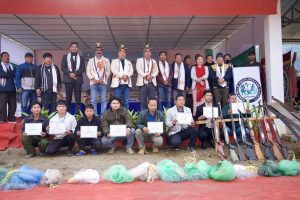 22 January 2022
7 airguns, 1 SBBL Gun 12-bore fishing net, 2 power sawing machines, 5 hand sawing machines, and 2 fishing arrows have been voluntarily surrendered by villagers at Poma village under Sangdupota Circle, Papum Pare District in the presence of Hon'ble environment and forest minister Sh. Mama Natung and Advisor Sh. Kumsi Sidisow.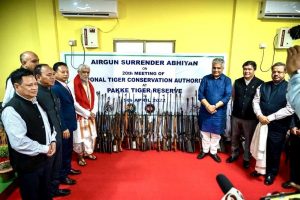 9 April 2022
A total of 80 airguns were surrendered by the people of Pakke Kessang District at an Airgun Surrender Abhiyan program held at Seijosa, as a part of the 20th Meeting of the National Tiger Conservation Authority which was graced by the Hon'ble Chief Minister of Arunachal Pradesh, Shri Pema Khandu, Hon'ble Minister of Forest and Environment, Shri Mama Natung and several of the prominent dignitaries.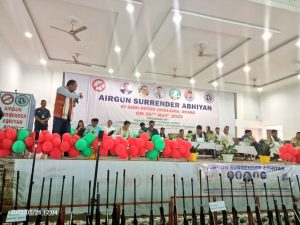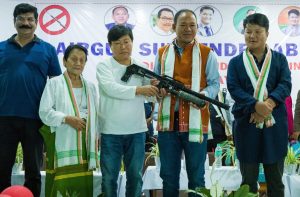 26 May 2022
A total of 76 airguns were surrendered at Giidi Notko, Roing, during the Airgun Surrender Abhiyan event organised by the Dibang Forest Division, where a native of the Lower Dibang Valley district, Shri Puinnyo Apum, voluntarily surrendered an airgun worth Rs 3.5 lakhs. The event was graced by HM (EF&CC) Sh. Natung Mama, HMLA Sh. Mutchu Mithi, and HMLA Sh. Gum Tayeng along with the senior officers from the department.
Appreciations & Recognitions: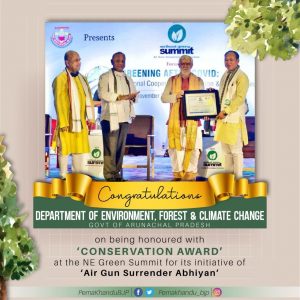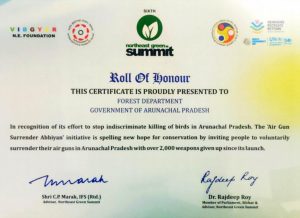 On 18th November 2021, the Forest Department under the Government of Arunachal Pradesh received the 'Conservation Award' for its outstanding endeavour, 'Airgun Surrender Abhiyan'. The award was handed over to Arunachal Pradesh's Hon'ble Minister of Environment, Forest & Climate Change, Shri Mama Natung by the Hon'ble Union Minister of State (MoS) Ashwini K Choubey (MoEFCC) in the presence of Hon'ble MP, Dr Rajdeep Roy and other esteemed leaders at the 6th North-East Green Summit 2021, held at IIT Silchar.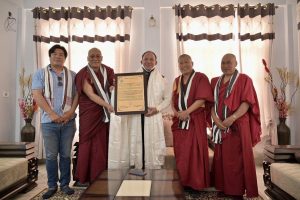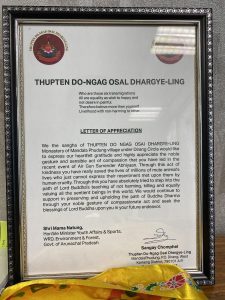 30 April 2021
The Hon'ble Minister of Environment, Forestry, and Climate Change, Shri Mama Natung, was acknowledged by Dondup Tsering Kheh Rinpoche of GRL Monastery, Bomdila & Thupten Do-Ngag Osaka Dhargye-Ling of Mandala Phudung village, Dirang of West Kameng district, Arunachal Pradesh for the noble and compassionate gesture of initiating Airgun Surrender Abhiyan.
Why Do People Surrender Their Guns In Arunachal? | Maan Ki Baat
26 December 2021
Hon'ble Prime Minister of India, Shri Narendra Modi in his address to the nation in the 84th episode of his monthly radio programme 'Mann Ki Baat' on 26 December 2021, lauded the Arunachal Administration for an effective initiative of 'Airgun Surrender Abhiyan' and praised the people of Arunachal Pradesh for surrendering their air guns to protect wildlife.
Major Contributors under District Administrations:
In order to recognise the efforts and contributions of the officers for Airgun Surrender Abhiyan, on 8th December 2021, Shri Mama Natung honoured the DFOs of the divisions under which more than 100 air guns were turned in.
The DFOs felicitated were –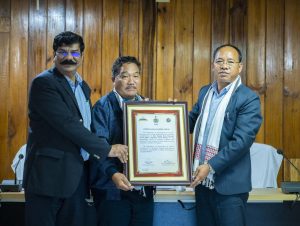 Shri. Anniying Boli, DFO Yingkiong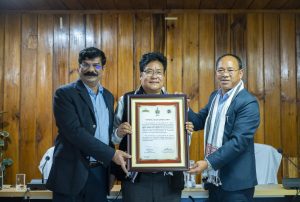 Shri. Chuku Loma, DFO Bomdila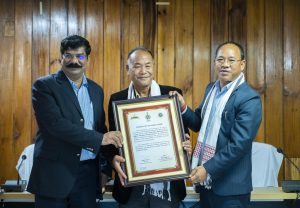 Shri. Tashi Mize, DFO Pasighat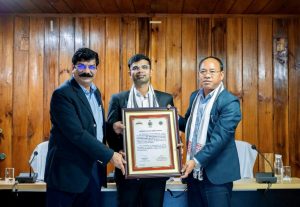 Shri. Abhinav Kumar, DFO Hapoli
Conclusion
According to Environment and Forestry Minister, Shri Mama Natung, who spoke at a press conference on the Airgun Surrender Programme at the PCCF Conference Hall on April 16, 2021, more than 680 people had turned in their air guns to district administrations in the state, in less than one month of the campaign's launch.
The Airgun Surrender Abhiyan is an ongoing, effective, and absolutely brilliant initiative to get local residents involved in environmental management and wildlife protection.