Arunachal Pradesh develops Cleanliness Protocol
18 Nov 2019

The State Government of Arunachal Pradesh has developed a 'Cleanliness Protocol' for implementation across the State and has issued necessary notifications in this regard. The District Administration has been made the nodal agency for monitoring and implementation of the same.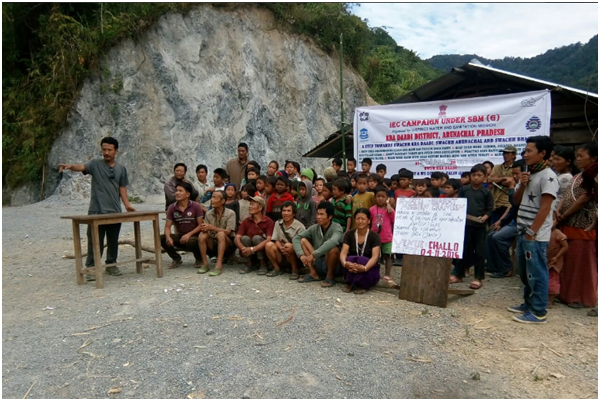 The Cleanliness Protocol is in keeping with the ODF (open defecation free) Plus activities recommended by the Ministry of Drinking Water and Sanitation, Government of India. ODF plus parameters include regular availability and usage of toilets, management of solid and liquid waste, cleanliness of water resources, maintenance of public and household toilets and awareness on personal hygiene including MHM (menstrual hygiene management).
The Cleanliness Protocol lists the following activities to be conducted by every district:
• Waste reduction, segregation and composting to be ensured at household level.
• Monthly social service to be carried out in all habitations and administrative centres through active participation of Panchayats/Gaon Burahs/Institutions and NGOs.
• Compulsory use of sanitary toilets with proper septage management through leach/soak pit or septic tanks with soak pit.
• Liquid household waste to be drained into a soak pit to avoid stagnation.
• Use of insanitary toilets to be banned through proper regulation; alternatives to be provided.
• Waste from administrative centres, common market places, utility areas to be managed through organizations/committees.
• Systematic management of organic waste from slaughter houses, fish markets, etc.
• Prohibit use of plastic and to encourage use of local organic alternatives.
• Proper confinement of domestic animals and management of their faecal waste.
• Promote green schools and encourage school children to be ambassadors of cleanliness.
• To reward cleanest village at community level to promote hygienic living.
• To prohibit pollution of water bodies such as rivers and lakes through open discharge of sewage and other non-bio-degradable solid waste.
• To prohibit littering in and around tourist and picnic spots, eateries and institutions.
• Proper management and disposal of construction waste.
• Safe and proper management of Bio-medical waste through incineration.
• To promote safe and proper disposal of menstrual waste.
• To adopt the conservative practice of 'Reduce, Recycle and Re-use" of products.
• Urinating in the open, spitting and defacing of public property to be treated as public nuisance.
Sustaining ODF status: Various IEC activities are scheduled to sustain safe sanitation practices. While the Village Water and Sanitation Committee (VWSC) will be strengthened and given more responsibilities in both sanitation and routine social services, the authority of the Gaon Burah or village head will be promoted to take leadership in all sanitation matters. In addition, Swachhagrahis will be trained and recruited, and rain water harvesting will be promoted for cleaning toilets.
The State also intends to involve school children, PRIs and religious leaders to create awareness on ODF sustainability. Further, to encourage cleanliness and hygienic living, competitions for the Cleanest Village and the Cleanest District have been instituted and awards will be conferred annually during the State Hood Day celebration. As usual, individuals and NGOs including officials who are striving to promote objectives of Swachh Bharat Mission (Gramin) will be recognized.
Menstrual Hygiene Management: The State is undertaking a pilot project to install sanitary pad vending machines and incinerators for safe disposal of sanitary waste at 30 schools.
Capacity Building Workshops: Capacity Building workshops will be held for on-field officials as well as Swachhagrahis for better implementation of the mission and updation of knowledge regarding best practices.
Solid and liquid waste management: The State which comprises of 25 districts, 1790 gram panchayats, 5389 villages and 183,058 rural households has identified landfills for solid waste management in 175 small rural towns. In addition, it plans to build 1272 community sanitary complexes and implement 1217 solid and liquid waste management projects during 2019-20.
[ The Blog was first published on https://sbmgramin.wordpress.com/ ]