East Sikkim School embarks on initiative to reduce paper wastage
26 Nov 2019

Government Senior Secondary School in Makha of East Sikkim has started a new initiative titled – Mero Khata translated My Copy, with a view to reducing paper wastage on account of unnecessary margins.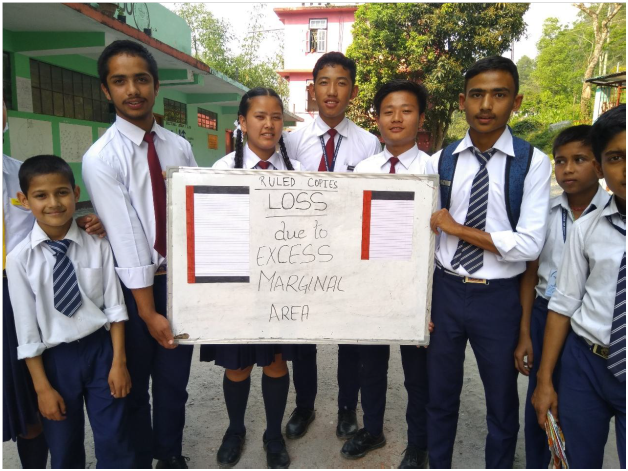 The initiative is a brain child of school teacher Lomas Dhungel, (Founder Cum Developer, Hariyo Makha) under whose leadership the Hariyo Makha – Sikkim against Pollution is being led in the school.
For starters, with the assistance of students he carried out a micro-level research on page margins in used copies or notebooks that students write on in schools. Two used notebooks were carefully examined. While the first had 400 pages, its margin alone accounted for 26.50% of the book which meant that just 74.5% of the book or the equivalent 294 pages were available for use. On the other hand, in the second notebook of 120 pages, the margin alone accounted for 25.88% of the total copy, leaving 74.12% or the equivalent 85.98 pages were available for use.
Clearly, a quarter of every book was being wasted on margins. Students were gradually motivated to use only copies without the left, upper and lower margins, leaving a single margin measuring 1.2 cms on the top. From just five students using such notebooks for all subjects in 2016, the number rose to 258 by 2019.
Normally, students used notebooks with the number of pages ranging from 120 to 400. Assuming that a 180 pages notebook cost Rs. 40 and recovery of 20% that would amount to 36 pages per copy, the total recovery from 2016-2019 would equal 36 pages X 3345 which makes a total of 120,456 pages or 669.2 notebooks that would cost Rs.26,768. With this calculation, more than 1,20,000 pages could be recovered.
The team is currently working with Sujal Textbook Manufactures (Makha, East Sikkim), and Oli Printing Press (Singtam, East Sikkim) to develop ruled copies with smaller margin areas.
In the meantime, if we roughly assume that one average tree can generate 25,000 pages for notebooks, and it takes 20 years for it to grow; then with this initiative we could save around 6 trees and recovered a life span of 120 years, Mr. Dhungel said.
[ The Blog was first published on https://sbmgramin.wordpress.com/ ]