ABDM Microsites- Building a Macro-level Digital Health Ecosystem in India
05 Aug 2023

Blog by Ms.Samriddhi Manral & Dr.Saurabh Ingole, National Health Authority, Ministry of Health and Family Welfare
Ayushman Bharat Digital Mission (ABDM) – an initiative by the Government of India, was launched on 21st September 2021 with a vision to build digital health infrastructure of the country. The National Health Authority (NHA), Ministry of Health and Family Welfare is the implementing body for this mission. More information on ABDM can be accessed at www.abdm.gov.in
With a population of over 144 crore, the potential for an ambitious project like ABDM is massive. The healthcare sector in India is well developed with 20 lakh+ health facilities and 50 lakh+ healthcare professionals delivering services across different systems of medicine in the country. ABDM is building an integrated healthcare delivery ecosystem where all stakeholders like health facilities, healthcare professionals, patients, health programs as well as applications can interact seamlessly on a digital platform.
In this direction, ABDM's core registries like ABHA (Ayushman Bharat Health Account) for patients, HPR (Healthcare Professional Registry) and HFR (Health Facility Registry) serve as a single-source-of-truth for identification of these stakeholders in the health systems. As on 31st July 2023, 43 crore+ individuals have ABHA numbers and 2.1 lakh health facilities & 2 lakh+ healthcare professionals are registered under ABDM. Further, 113 health programs, health tech applications and solutions have been integrated with ABDM to enable digitization and inter-operability in healthcare delivery. With an "ABDM-enabled" healthcare system, Indian is ensuring that service delivery happens in an efficient, accessible, inclusive, affordable, timely and safe manner.
The true potential of ABDM can be realized with active adoption across all levels of healthcare service delivery. Focused adoption, conducive policy environment and effective utilization of digital services can bring about a digital health revolution across the nation. increases to multiple folds. However, one of the major challenges in ABDM adoption has been the limited involvement of private players as compared to the Government sector. Although, this has increased considerably over the last few months, it needs a major boost to ensure the benefits of ABDM reach the last mile. To achieve this, the concept of 'Microsites' has been introduced to accelerate the process of ABDM adoption especially by the private-sector.
What is ABDM Microsite?
A Microsite, within the context of ABDM, is a focused region comprising all small-medium private facilities such as clinics, hospitals, labs present in that area, which may be on-boarded onto the ABDM ecosystem. With the tailored interventions provided by Microsites, the concerns and challenges of small and medium-sized healthcare providers will be understood and addressed, allowing them to become part of the National Digital Health Ecosystem, also allowing patients to easily adopt and understand the benefits of ABDM.
Healthcare providers who join ABDM ecosystem will also have the option of using ABDM-enabled low-cost digital health solutions (like HMIS). These digital health solutions will enable them to manage appointments, access patient's health records (consent-based), generate and link their prescriptions to the patient's ABHA for easy reference and much more.
Piloting ABDM Microsite
First ABDM Microsite was started at Mumbai, Maharashtra in October 2022. The vision of this Microsite was to enhance ABDM adoption and gather feedback from the field to understand the hurdles in adoption. The trained field team engaged with the healthcare professionals, introducing them to ABDM and guided them through the adoption steps. While direct engagement with healthcare professionals was critical, it was also essential to engage some of the key ecosystem stakeholders during this outreach effort. These included, the municipal corporations, the city or state chapter of medical associations and most importantly, the state ABDM office that provided the necessary guidance to make the pilot work.
As of now, in Mumbai out of the total approached healthcare professionals across various health facilities, 26% have been onboarded. Of these healthcare professionals, 91% healthcare professionals have registered their facilities on HFR and 86% have adopted an ABDM enabled HMIS which are generating over 5000 ABHA-linked electronic health records.
Another ABDM Microsite pilot was implemented in Ahmedabad and Surat in Gujarat, leveraging the relationships developed with private sector healthcare professionals. As of now, out of the total approached healthcare professionals across various health facilities, 28% have been onboarded. Of these healthcare professionals, 18% healthcare professionals have registered their facilities on HFR and have adopted an ABDM enabled HMIS.
Figure.1 below depicts a patient's journey in ABDM ecosystem and how the entire process of appointment booking, consultation, getting diagnostic reports, medicines and sharing and storing of records has been made seamless via ABDM.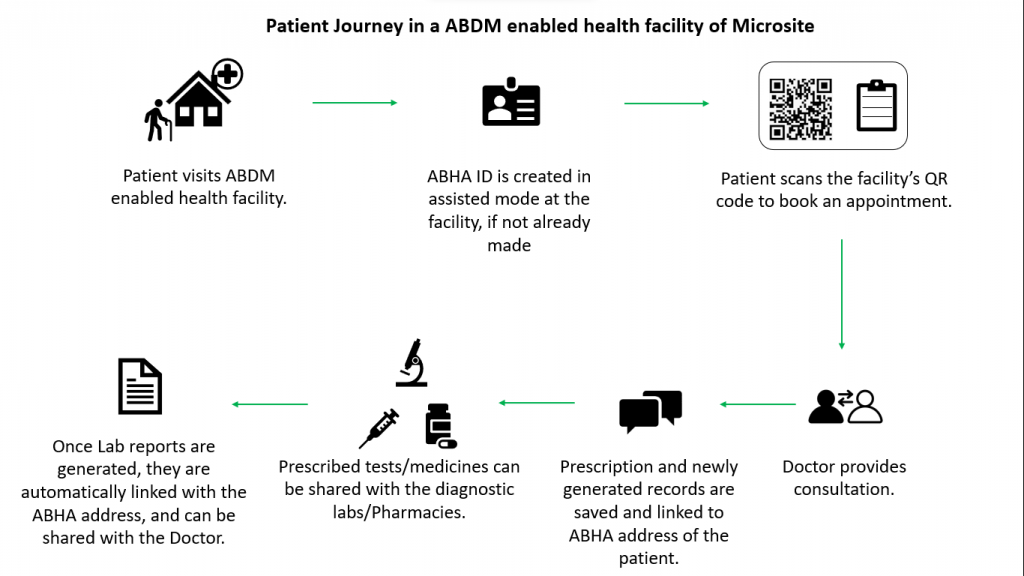 Figure.1- Patient Journey in a ABDM-enabled health facility at a Microsite
In a Microsite, all the ABDM-verified Healthcare professionals and Healthcare facilities along with ABDM-enabled digital solutions will be located within a specified geographical region, allowing for maximum utilisation of these Digital Public Goods.

Figure.2- ABDM Microsite in Mumbai, Maharashtra
100 Microsites Project by ABDM
Taking learnings from the pilots in Maharashtra and Gujarat, NHA launched the '100 Microsites project' in June 2023. Along with addressing the challenges of healthcare providers, these 100 Microsites will help foster India's digital health ecosystem, as envisioned by ABDM. Microsites will be enabled in each state, eventually spreading across India.
Based on the number of healthcare facilities within a Microsite, they have been classified as:
Category A (More than 1000 facilities)
Category B (Less than 1000 but more than 500 facilities)
The healthcare providers within a Microsite shall be encouraged to register on ABDM's core registries, use ABDM-enabled digital solutions and eventually begin to link digital health records with the patient's ABHA. This shall benefit not just the healthcare providers but also patients. In the ABDM ecosystem, the patients will have the ease of managing and sharing their digital health records, receiving quicker access to healthcare services and improving the prognosis of their health issues. Direct, quick, and shared access to their health status can help patients develop a sense of partnership and improve their trust in the physician.
Collaborative Efforts – Working with all Stakeholders
In order to operationalize and run a Microsite, participation of various stakeholders from the ecosystem is important and working in unison is essential for successful implementation of this project. For this, the broad Plan of Action shall be:
NHA will look into the overall implementation along with providing finances and resources for carrying out Information, Education and Communication (IEC) and capacity building activities within the Microsites. NHA will also build a Microsite specific public dashboard for effective monitoring.
State Mission Directors (SMDs), ABDM will be responsible for running the Microsite and engaging all relevant stakeholders for implementation of the Microsite at the state level.
The State/UT ABDM Office may choose to onboard a development partner. The said organisation will work closely with all the stakeholders to provide the required support to operationalize and manage a Microsite. Further, they may also appoint an interfacing agency to provide the human resources and work closely with the development partner, under the direction of the SMD, ABDM.
ABDM enabled digital health solution companies like HMIS/LMIS providers and Personal Health Record (PHR) applications are also important stakeholders for the Microsites. It is critical that the participating health service providers as well as patients are using ABDM-enabled solutions to complete the adoption cycle. The various ABDM enabled digital health solution partners can be accessed at https://abdm.gov.in/our-partners
ABDM Microsite Implementation Strategy:
As a first step, the field agents shall map all the healthcare providers and facilities within the Microsite region. The doctors, clinics, labs, pharmacies etc. in the region shall be briefed about ABDM ecosystem and the associated benefits of onboarding. The service providers shall be encouraged to register on HPR, HFR and use ABDM enabled healthcare solutions. Once they register and become a part of ABDM ecosystem, the implementation agency will provide hand-holding in the form of capacity building and IEC support.

Figure.3-Onboarding journey in a Microsite
The initial phase includes, selecting and onboarding a development partner/interfacing agency and preparation of the project proposal. The second phase includes setting up a team, IEC and initiating outreach activities for healthcare professionals. In the later phases, adoption and acceptance will take place in a progressive manner leading to increasing the number of verified healthcare providers and facilities along with extensive use of ABDM enabled healthcare solutions.
NHA will provide financial assistance to the ABDM States/UTs, as well as further incentives will be provided based on the outcome of the Microsite(s). A detailed payment journey for Microsites can be accessed in the Operational Guidelines of Microsites at https://abdm.gov.in/Microsites
Ensuring Data Privacy and Personal Data Protection
The key guiding principle of ABDM is "Privacy by design" and the federated digital architecture ensures that no data is saved centrally. The policies guiding the privacy and security in ABDM are Data Privacy Policy and Health Data Management Policy (draft stage). In the ABDM ecosystem, patient's health related information is not stored but exchanged. Even before the inclusion of deemed consent in the Digital Personal Data Protection Bill 2022 (The Digital Personal Data Protection Bill, 2022_0.pdf (meity.gov.in), ABDM ensured that the data exchange takes place via patient's consent. In ABDM, this is enabled, through Health Information Exchange and Consent Manager (HIECM). It is similar to how it happens when an online payment is made through UPI, the transaction takes place only when the consent is given by the user.
Summary
In larger context, the '100 Microsites' Project will increase adoption of ABDM across the country by onboarding healthcare providers, healthcare facilities and the patients. Each of these 100 Microsites will be a separate ABDM unit in the country acting as a catalyst to trigger chain reaction for ABDM adoption.  The benefits of this project would include increased awareness and knowledge of ABDM and increased adoption across the country. It will result in the onboarding of more and more stakeholders, resulting in a more robust and resilient digital health ecosystem.
The registries (HFR and HPR) generated by ABDM serve as a single-source-of-truth for anyone seeking information on health facilities and healthcare professionals. Furthermore, this ambitious project would result in an exponential increase in the number of verified healthcare professionals and healthcare facilities across the country, providing citizens with better access to quality healthcare as we move forward towards the Sustainable development goal of Universal Health Coverage.
Author of this blog is  Ms. Samriddhi Manral & Dr. Saurabh Ingole