Octogenarian inspires her community to build toilets
02 Dec 2019

Life was a struggle for Chinta Devi (80+) who suffered from some form of mental illness. As if the strains of having to make ends meet through farming activities were not enough, she had been going out to defecate in the open for as long as she could remember. It was a practice followed for generations – representing immense challenges for the elderly, particularly during monsoons and winters.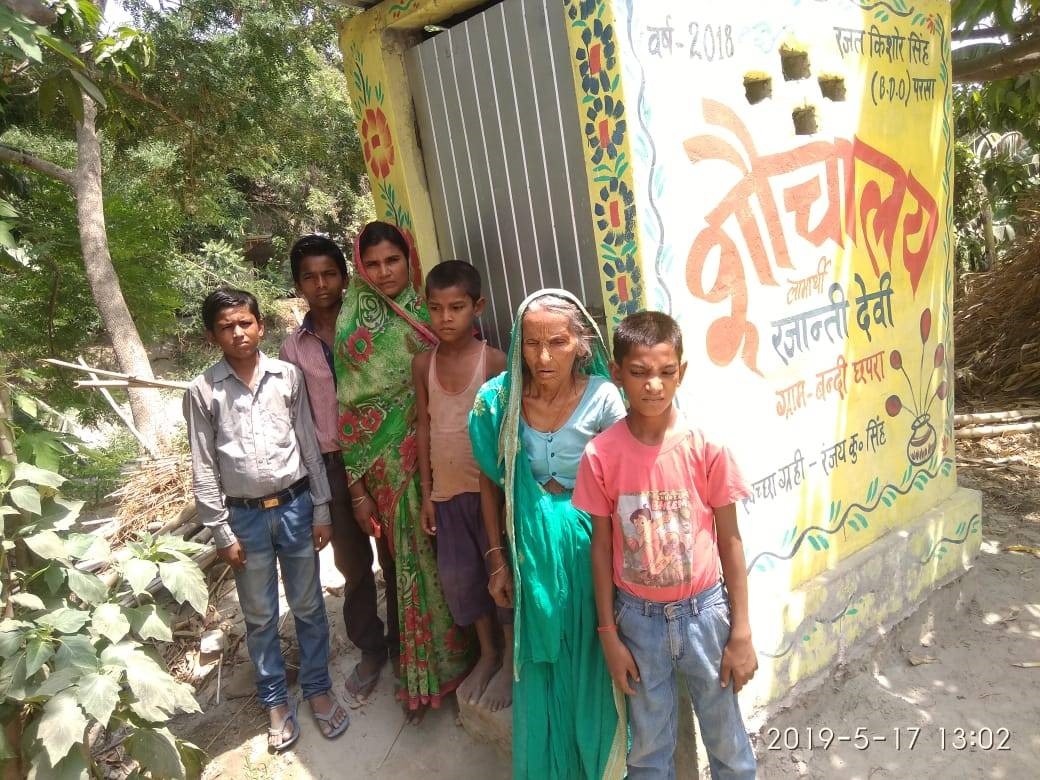 She lived with her widowed daughter-in-law Rajavanti Devi (wife of late Biswamohan Singh) and four grandsons in Bandichapra Village (Baligaw panchayat, Parsa Block) in Saran district of Bihar. About 40 households lived in that village, all of who did not own toilets.
When the district administration began triggering exercises to build awareness about safe sanitation practices and the need to use toilets, the elderly lady was convinced that they needed a toilet. Despite her age, she understood the importance of using a toilet to avoid disease and other complications.
Given their impoverished financial situation, she knew she could not afford labour costs to get a toilet built for her home. However, with support from the neighbourhood the family was able to get enough old bricks that they could use. Buying sand from the Gandak river area for a discounted price of Rs. 400, they bought accessories such as rural pan, pipes, etc., from a rural sanitary mart. She then persuaded her grandchildren to support the project.
Fortunately, the village Swachhagrahi called Ranjay Kumar Singh guided the family with the construction and with his help they were able to dig pits and build the walls of the toilet. It was a massive effort which paid off in a big way. The whole family now uses the toilet.
Chinta Devi set an example in her neighbourhood by constructing a twin pit toilet. The grandchildren thereafter motivated others in the neighbourhood, about the need to use toilets.

The Block Development Officer was quite happy and recognized her efforts and change in behavior during local meetings. When Chinta Devi received an incentive from the district administration, she was able to pay for the toilet accessories she bought earlier. In due course, inspired by her spirit, all families got their own Izzat Ghars built and the village was declared open defecation free (ODF) on 31st December, 2018.
Constant follow up is now being done in the village to ensure that people continue to use their toilets regularly. The subjects of solid and liquid waste management and the need to minimize use of plastic are being discussed at the village meetings.
Inputs: ZSBP-Anulekha and Avinash Swaroop (PMC-MDWS)
[ The Blog was first published on https://sbmgramin.wordpress.com/ ]