PM Modi's Historic 3 Nations Visit to Palestine, UAE and Oman
15 Feb 2018

Prime Minister Narendra Modi undertook for his three nation visit to Palestine, United Arab Emirates and Oman from 9 – 12 February 2018. Investment, trade, defence and security were the key focus areas of his talks with leadership of all three countries.
The Prime Minister kick-started his historic three nation tour on Friday, 9 February arrived to Ramallah transit via Amman, the capital of Jordan on a mission to strengthen bilateral cooperation and also to reaffirm India's support for the Palestine people. In Ramallah, prior to holding formal talks with Palestinian President Mahmoud Abbas, Prime Minister Narendra Modi visited Yasser Arafat Museum and laid a wreath at the memorial for late Palestinian leader.
Palestine President Mahmoud Abbas conferred PM Narendra Modi with the Grand Collar of the State of Palestine in recognition of PM Modi's contribution towards relation between India and Palestine after the conclusion of bilateral talk. The Grand Collar is highest order given to foreign dignitaries.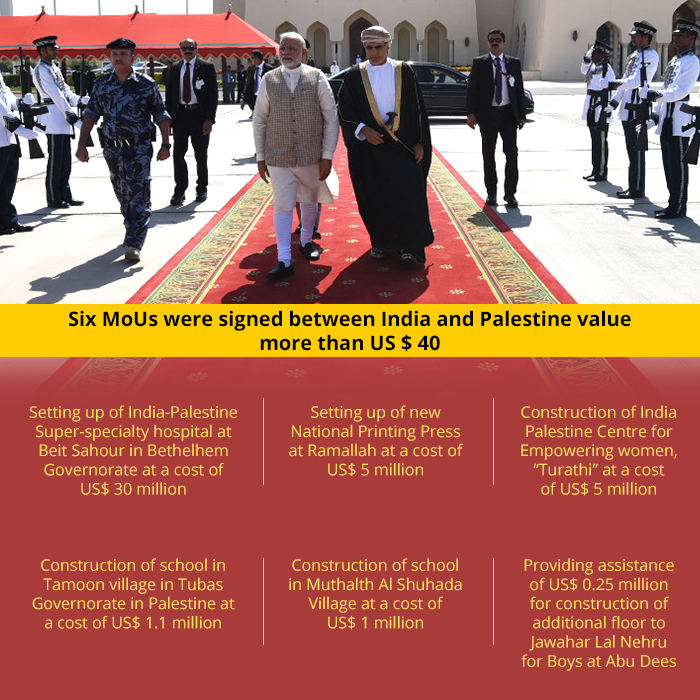 Addressing the joint presser, PM Modi ascertained that Palestine has been on top priority on India's foreign policy and praised Palestinian people on how they have gone through tough times by showing courage and perseverance. Calling for peace in the region, PM Modi asserted that only diplomacy and farsightedness can solve the problem of Palestine and India hopes that Palestine soon becomes a sovereign and independent country in a peaceful atmosphere.
Prime Minister Narendra Modi arrived in Abu Dhabi on Saturday, 10 February where ceremonial reception was held in the capital. Following the ceremonial reception, PM Modi met the Crown Prince of Abu Dhabi Sheikh Mohamed Bin Zayed Al Nahyan as a part of the bilateral meeting and five (5) government-to-government MoUs were signed and Exchanged after the delegation level talks. The MoUs are related to energy sector, railways, manpower and financial services.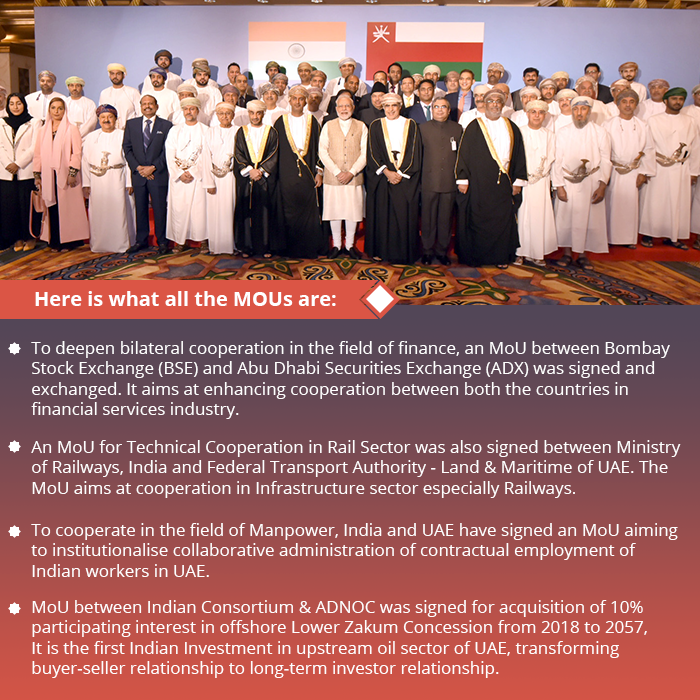 Addressing the Indian community at Opera House, PM Modi thanked the Crown Prince on behalf of 125 crore Indians for the grant of temple which will be constructed. He unveils a replica of the first Hindu temple and also witness the foundation stone-laying ceremony for the temple. He expressed hope that the Temple would give an opportunity to the whole world to experience Vasudhaiva Kutumbakam – the world is one family.
PM Modi painted the vision of a new India and shared the ease of doing business in India with the business leaders during his meetings with Business Leaders from Gulf Cooperation Council (GCC) countries in Dubai. He spoke at length about the economic opportunities in India and the series of reforms undertaken in the last 3.5 years with GCC business leaders.
Delivering keynote inaugural address at the World Government Summit (at the Arena Hall, Madinat Jumeirah in Dubai) where India is a guest of honour this year, PM Modi underlined the need to use technology to ensure inclusive growth and development. He described technology as a key instrument of global change but issued a warning against the use of cyberspace for radicalization. He pitched for use of technology as a means to development, not destruction. Outlining India's use of technology, PM Modi said the use of technology-enabled Aadhaar (unique identity numbers) ensures government benefits reach the needy directly saving the government $8 billion a year.
PM Modi also met PM of France Edouard Philippe on the side-lines of the World Government Summit in Dubai. The two leaders discussed on strengthening strategic partnership.
After a two day stay in UEA, PM Narendra Modi arrived in Oman's Muscat on Sunday, 11 February – the last leg of his three-nation tour. He was received by Deputy Prime Minister for Council of Ministers of Oman, Sayyed Fahb Bin Mahmoud Al Said.
Addressing the Indian diaspora during a community event in Muscat, PM Modi appreciated the role of Indian diaspora in Oman in strengthening Indo-Oman ties. India and Oman had thriving links rooted in centuries-old people-to-people exchanges, he add.
PM Narendra Modi met Sultan of Qaboos of Omman and the two sides discussed measures to strengthen cooperation in trade and investment, energy, defence, security food security and regional issues. After their talk, the two sides signed eight agreements/MoUs.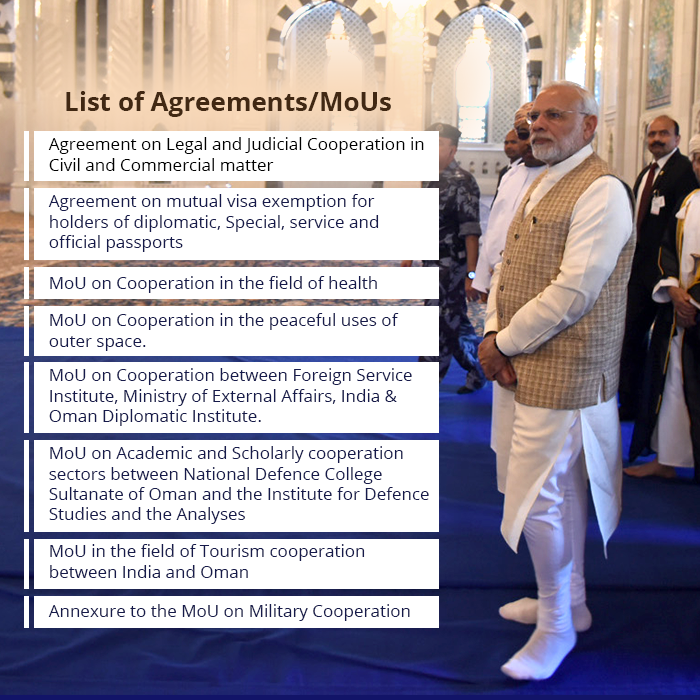 PM Narendra Modi also met Oman's Deputy Prime Minister H.H Sayyid Fahd bin Mahmood Al-Said, and discussed ways to further expand cooperation between India and Oman.
Before deplaning to India, Prime Minister Narendra Modi offered prayers at the Shiva Temple and visited Sultan Qaboos Grand Mosque in Muscat, Oman. The Motishwar Shiva Temple is one of the oldest in the region.