Rediscovering Thoubal District
06 Feb 2020

Thoubal is one of the 16 districts of Manipur occupying the bigger portion of the eastern half of Manipur valley. It is bounded on the North by Imphal West and Imphal East district, on the East by Kangpokpi and Tengnoupal districts, on the South by Kakching and Tengnoupal districts.
Thoubal is an important district for the state as, a very ambitious project of Central government (Government of India), Act East Policy – to connect India with the other Asia-Pacific region through Myanmar via Moreh and Tammu- passes through this district and Thoubal is like a gateway to the project (after passing Imphal). This route is called Imphal-Moreh road or simply National Highway (NH) – 102.


Thoubal Bazaar (Image Courtesy: NIC Thoubal)
Before India's independence, this route had seen many military expeditions and counter expeditions by the forces of Manipur and Burma, and later on, by the British Government. It is in this district that the last battle of independence of Manipur was fought on April 23, 1891, at Khongjom against the British Empire. This day is regarded and celebrated as Khongjom Day to date. It is even declared a state holiday and a grand fair where the highest-ranking officials of the government, family and relatives of the martyrs and people of the state pay fitting tribute at Khongjom War Memorial Complex. The Khongjom War Memorial Complex is built in Kheba Hillock, the very place where the last battle of independence of Manipur took place. The complex has a statue of Paona Brajabashi, one of the martyrs of that battle, which made the memorial park more distinct. This site has also become a very important tourist site in the district.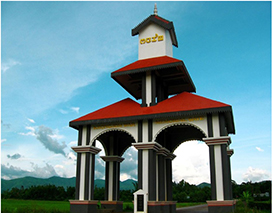 Khongjom War Memorial (Image Courtesy: NIC Thoubal)
Besides this complex, there is also Waithou Lake, Thoubal River and MMRC & Unity Park as key tourist sites of Thoubal. Waithou Lake lies in the northern part of the district. It was formed by the drained water getting collected that comes from Waithou Hill and the many paddy fields on the west and the east.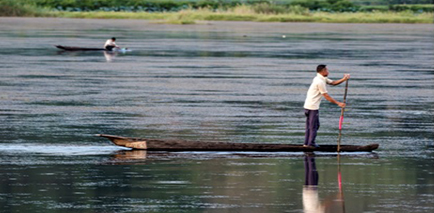 Waithou Lake (Image Courtesy: NIC Thoubal)
MMRC Park in Khangabok is also one of the major tourist destinations of Thoubal. The theme of unity is displayed here on the park with installation of worship places, of Meetei traditional religion, Ebudhou Pakhangba Temple, a Hindu temple, a Church and a Mosque. There are also representational huts and structures of various tribes and communities of Manipur.
Thoubal Market is also one place that draws many visitors throughout the year. When travelling to Thoubal, the market is the first to spot on as it is located at the entrance of the district (from Imphal). Fresh vegetables and fruits, local made handlooms and handicrafts, local indigenous foods are some of the kinds of stuff available at this market.
Thoubal River and Imphal River which flows through district serve as an important source of livelihood for the people. The Thoubal Multipurpose Project, an ambitious project intended to generate electricity and supply water for irrigation and water, is built on Thoubal River. People also often come for picnicking in and around these rivers.
THE PEOPLE
Thoubal is majorly inhabited by Meitei community, Meitei Pangal and other tribal communities. Meitei community follows the Hindu religion and constitutes 63.28 % of the total population whereas Meitei Pangal are Muslims which constitutes 25.42 % and tribal communities follow Christianity and other indigenous religions, that makes up 11.04 %.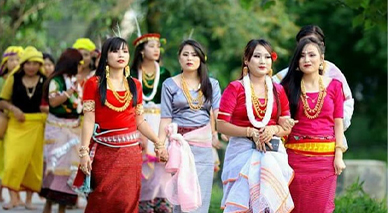 Meitei girls in traditional dress during Lai Haraoba festival (Image Courtesy: Internet)
FESTIVITIES
Thoubal people do not shy away from showcasing and celebrating festivals with full rigour and rigidity. Yaoshang, Ningol Chakouba, Cheiraoba, Kang, Christmas and Id are some of the widely celebrated festivals of Thoubal district.
FOOD
Rice and fish are the staple food of Thoubal. Different forms of fermented fish like Ngari, Nga-thumyakpi, Phabong-nga are used in gravies and curries.