Discovering life through Yoga
16 Sep 2021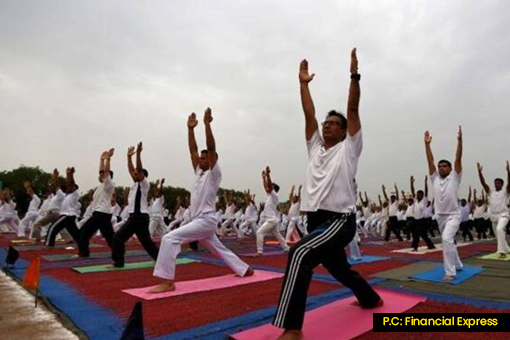 Perhaps one of the most precious gifts India has ever sent out to the world, yoga remains a popular activity to many people irrespective of ages and regions. Yoga, as we know it is an ancient Indian ascetic discipline that helps in the improvement of health as well as in providing relaxation to the practitioner. It improves strength, pliability, and helps in attaining peace of mind. Yoga involves practicing various body postures (asanas) along with different breathing exercises. There are multiple sets of asanas and breathing techniques in Yoga, each providing a specific benefit to the body and mind. Apart from improving postures and having health benefits like lowering blood pressure levels, improving excretory functions, enhancing sleep quality, boosting immunity, aiding weight management, etc. Yoga routines also boost the psychological health of the practitioner.
Origin of worldwide celebration – International Day of Yoga
Taking up the suggestion of our Hon'ble Prime Minister, Narendra Modi ji, the United Nations General Assembly declared '21st June' as the annual International Day of Yoga back in December 2014. Following which, India celebrated the first International Day of Yoga on 21st June 2015. At Rajpath, New Delhi, around 35,000 people gathered to perform 84 asanas (postures) for 35 minutes to celebrate the first ever International Day for Yoga with much pomp and gaiety. The event was joined by officials from 84 countries around the world including the Prime Minister himself. The day marked as the official reach of ancient Indian practice globally and since then the day is celebrated throughout the world with performances and events held on that day.
Govt. Initiatives for promoting Yoga
As a pioneer to introduce Yoga to the world, India continues to reap the health benefits of this ancient practice. In a bid to pass on the power of Yoga to future generations, Indian Govt. aims to produce more certified Yoga instructors from the country who can teach the art of life through Yoga.
Indian government has since taken up many initiatives to promote the practice of yoga such as:
•The Central Council for Research in Yoga and Naturopathy (CCRYN) an autonomous organization under Ministry of AYUSH, has opened 08 Yoga OPDs in Government hospitals of Delhi and Haryana.
•Financial assistance is extended to State Governments and other reputed NGOs for conducting National/ International seminars to promote Yoga.
•Yoga Training has been initiated for Police Personnel & the Defense Wing Staff.
•The Ministry deputes Yoga experts to participate in fairs/ workshops organized by the Ministry of Tourism abroad for Yoga demonstration and lectures.
•Yoga Education is made compulsory in schools, as a part of the curriculum.
•In his 2015 Budget, Finance Minister Arun Jaitley had declared all Yoga related businesses as charitable activities exempt from tax. (Source: Yogacentral.in)
Regional Significance & post-pandemic practice of Yoga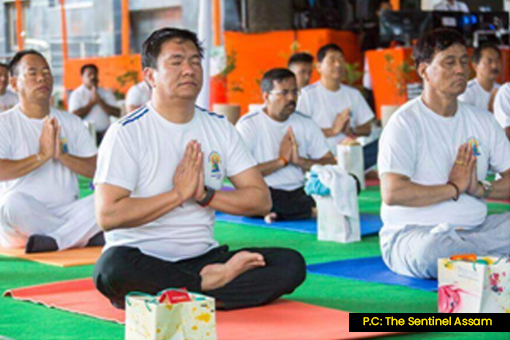 In Arunachal Pradesh, the art of Yoga is becoming more prevalent in recent times, unlike other parts of India where it has been prioritized since long. State Govt. of Arunachal Pradesh is utilizing its resources to promote more of Yoga in the land of dawn. As such, many schools, colleges and universities have started including Yoga classes as part of their academic curricula. This has encouraged more yoga practitioners to emerge from the state. But since the first outbreak of COVID-19 in 2020, circumstances changed as people experienced numerous movement restrictions and frequent lockdown impositions in order to contain the spread. During the 7th celebration of International Day of Yoga on June 21, 2021 in Arunachal Pradesh, Hon'ble State Governor, Brig. (Dr.) B.D. Mishra (Retd.) appealed to the people to incorporate Yoga in our everyday lives as a means to maintain healthy lifestyle indoors and fight the pandemic. Adding on, Hon'ble State Chief Minister, Pema Khandu also acknowledged the practice of yoga, citing its benefits in minimizing the psychological suffering during the crisis. The state is doing its part in promoting the ancient practice of yoga which is a heritage in itself. In addition, there are online sites which provide tutorials on different asanas and can be easily referred by people who wishe to learn Yoga from home. One such initiative is taken by the Government of India where Hon'ble Prime Minister, Narendra Modi launched the 'WHO M-Yoga' App on the occasion of 7th International Day of Yoga. The app provides numerous videos on yoga practices in different languages and is available on Google Play store to be downloaded.
Reflecting on current times, people have long been indoors and are now slowly returning to normalcy, with safety protocols still being followed. The art of Yoga is more important now in balancing our mind and body. With regular practice, Yoga is known to defeat many health conditions, enabling practitioners to avoid possible medical costs in future. By making Yoga a part of our everyday lives, we can cope with the new normal with more efficiency and renewed energy.