Value Capture Financing – a big ticket reform for speedy urban service delivery and resource mobilization
29 Mar 2017
Moving away from archaic ways of urban governance, planning and financing.

Rationale
Over the last two & a half years, a number of major Missions have been launched by Ministry of Urban Development (MoUD), Government of India for improving the quality of urban services and bridging the urban infrastructure deficit. One of the key challenges faced is the limited revenues of cities and their limited capacity. Value Capture Finance (VCF) is an innovative urban-development funding and revenue generation tool.
Meaning
VCF seeks to enable States and city governments raise resources by tapping a share of increase in value of land and other properties like buildings resulting from public investments and policy initiatives, in the identified area of influence. The VCF is constituted of four steps: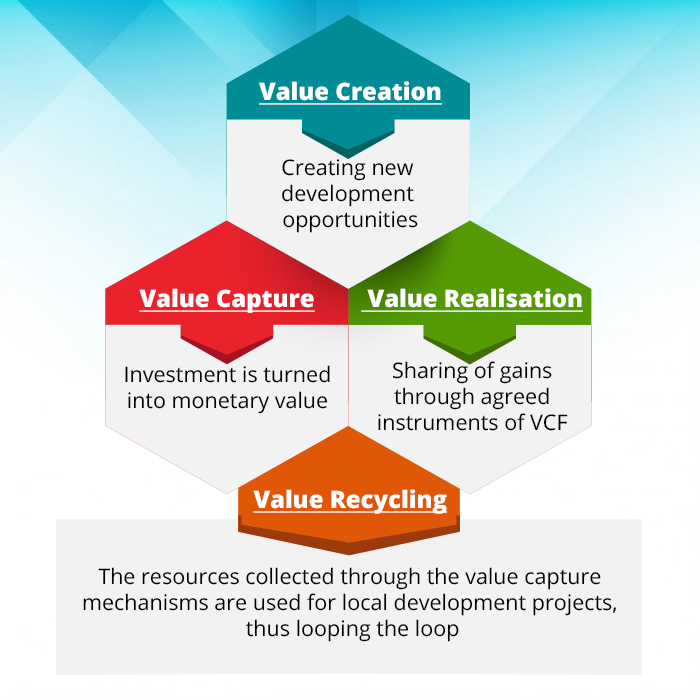 Current Situation
Some Indian cities through state urban regulations have been developing and exercising some of VCF mechanisms – The Mumbai Metropolitan Region Development Authority (MMRDA) and City and Industrial Development Corporation Limited (CIDCO) have used different Value Capture methods including Betterment levy to finance infrastructure development in the urbanizing areas. Tamil Nadu and Maharashtra have made Land Value Tax applicable to urban areas too under which increase in land value is tapped through increased revenue tax. West Bengal has formulated a system to capture gains from land use conversion. Area based Development charges are being resorted to in Andhra Pradesh, Gujarat, Maharashtra, Tamil Nadu and Madhya Pradesh. Karnataka, Gujarat and Maharashtra have made enabling provisions for enabling Transfer of Development Rights to buy additional FSI/FAR.
Initiative
With a view to develop a comprehensive VCF framework so that it can be used efficiently and optimally across the country as a method of financing ongoing Urban Transformation, the MoUD has recently come out with a policy framework for an innovative resource mobilization through Value Capture Financing (VCF). The VCF policy framework will work as a guide to State and city governments in assessing the scope of resource mobilization, identifying the area of influence of proposed projects and optimizing resource mobilization.
The different instruments of VCF as proposed in VCF Policy framework are:
•  Land Value Tax – based on land records, valuation, assessment and revenue collection and enables levy for rural and urban land
• Fee for changing land use – capturing gains from changes in land use from commercial to industrial, residential to industrial, residential to commercial
• Betterment levy
• Development charges
• Transfer of Development Rights – used for trading development rights and thereby aiming to recover monetary compensation that would have been lost due to heritage conservation or land being utilized for social causes such as open spaces and affordable housing etc.
• Premium on relaxation of Floor Space Index and Floor Area Ratio – to allow for additional development rights beyond the permissible limits
• Vacant Land Tax
• Tax Increment Financing – to capture a part of the increase in land value either due to planned improvement due to specific projects
• Zoning relaxation for land acquisition
• Land Pooling System.
Way Forward
To go beyond the incremental approach of taking small steps towards urban development, Ministry of Urban Development, GoI has shifted focus to incentivising Transformational Reform Agenda in urban governance, planning and finance. This 5-point Reform Agenda was discussed with states on the side-lines of launch of VCF Policy Framework. Value Capture Financing is one of the reforms under agenda; others being Moving to a Trust and Verify Approach, Formulating Land Titling Laws,  Credit Rating of Urban Local Bodies and Improving Professionalism of ULBs. The proposed implementation framework specifically with respect to VCF is as below: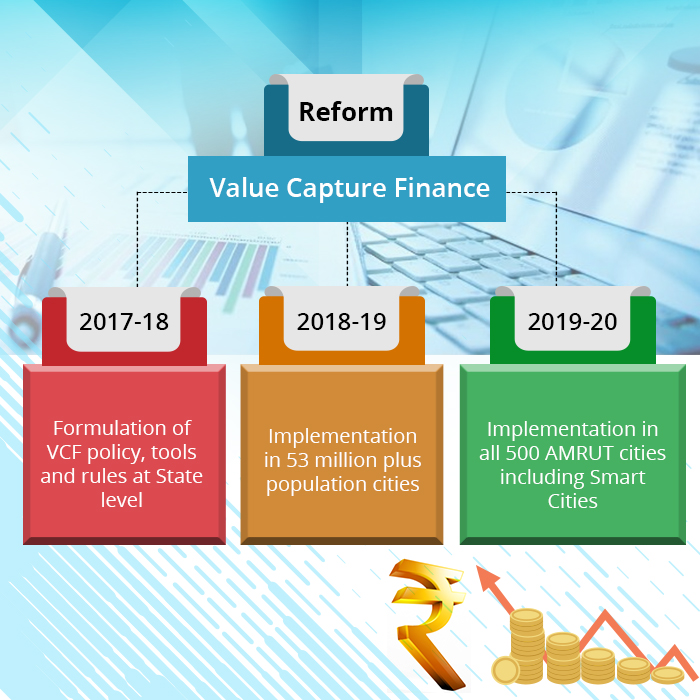 Further ushering in these transformational reforms, MoUD has decided of integrating  VCF into project feasibility assessment for systematic and large scale adoption of capturing a part of potential increase in the value of land and other properties resulting from the proposed investment. VCF tools would be applied for all new projects planned in order to capture the full value being generated to develop infrastructure projects in the area. Consultation will be held with all potential beneficiaries of the project for the value impact assessment in the area of influence and included in the detailed project report (DPR).
VCF is a driver for new opportunities. It is a way to optimize local authorities' resources management by creating a new kind of innovative PPP models. It can be precisely used as a tool to capture the positive externalities in order to finance the necessary investments to enhance and sustain urban development.